FLUSTANZ SENSATION OF VICTORY INDEX
CH. NITRO'S "SPICEY" DAUGTHER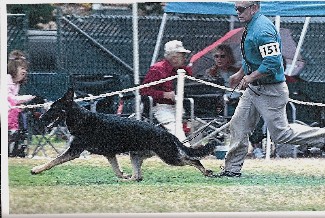 Great Shot by Ron Lucas!! 2009
(note : absolutely loose lead)
Our girl "Spicey" who is bred from the canine excellence of
CH. ELVASTON'S NATIONS CUP, TC , OFA H/E "NITRO" (26 BISS/BOB'S)
AND
US SEL 2 AM/CAN CH. CATHLIN'S AZERI OF HALLMARK
"Spicey" epitomizes correctness of structure, and movement,
with long elegant bone, ultra-clean gaits, IRON back , long sloping
croup and elastic, outreaching front and rear.
She like her father, "Nitro" , is a GOER. She can gait all day, and
ask for more. She is a SHOW DOG, with outstanding ring presence
and a real "look -at -me" attitude. This is a WORKING DOG THAT SHOWS,
A SHOW DOG THAT WORKS.
Loose lead or taut, at slow, medium or fast speeds, she ALWAYS maintains
TOPLINE, ROCK HARD MIDDLE PIECE, REACH, AND REAR DRIVE.
SHE IS A CLOWN, AND A FUNNY GIRL WHO LIVES TO "GO!!! " JUST LIKE HER DAD.
NEWS FLASH!!!!!!!!!!!!!!
"SPICEY " GOES WINNERS BITCH / BEST OF WINNERS
ORANGE COAST GSDC 9-05-2009
HUGE THANK YOU TO MR. DAVE COLEMAN
FOR APPRECIATING HER, AND ALLOWING HER TO REALLY WORK!!!!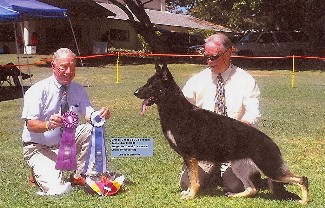 ALSO WATCH FOR "SPICEY'S " SON , VICTORY'S WINCREDIBLE IN THE PUPPY CLASSES
SIRED BY: CH. GARTER'S EMALE OF FRAN-JO ANNE ISLE