RBIM Flusstanz Samara of Victory
A New Star on the Horizon....
"SAMARA"
CH. NITRO DTR X SEL 2 CH AZERI
BRED BY LORRAIN COHEN AND TEAM VICTORY
THIRD TIME SHOWN , SAMARA GOES
RESERVE BEST IN MATURITY, NW JUNE 14, 2008
Thank you Judge Libby Cameron!
~~~~~~~~~~
WOW !! 5 POINT MAJOR WINNERS BITCH
San Gabriel Valley GSDC - Oct 18, 2008
THANK YOU MR. JORGE NOYA!!!!
PHOTO SOON!
Congratulations to Co-Breeder and Owner Lorraine Cohen!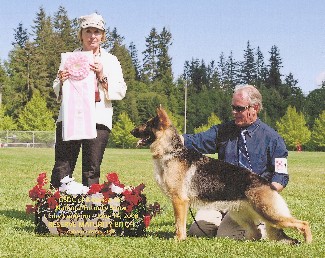 WE ARE PROUD TO HAVE "SAMARA " HERE AT VICTORY
FOR HER CAMPAIGN. WATCH FOR THIS LOVELY, BLK & RED LADY
IN A SHOW RING NEAR YOU!!!
SAMARA IS CH. NITRO'S FIFTH QUALIFIER, AND SEL CH. AZERI'S FIRST QUALIFIER!!