CH. Kappo von Eisenwerk, OFA Excellent Hips/ Normal Elbows, tc, CHIC
OFA EXCELLENT HIPS, OFA NORMAL ELBOWS, TEMPERAMENT CERTIFIED
Specialty and Groups he wins at them all!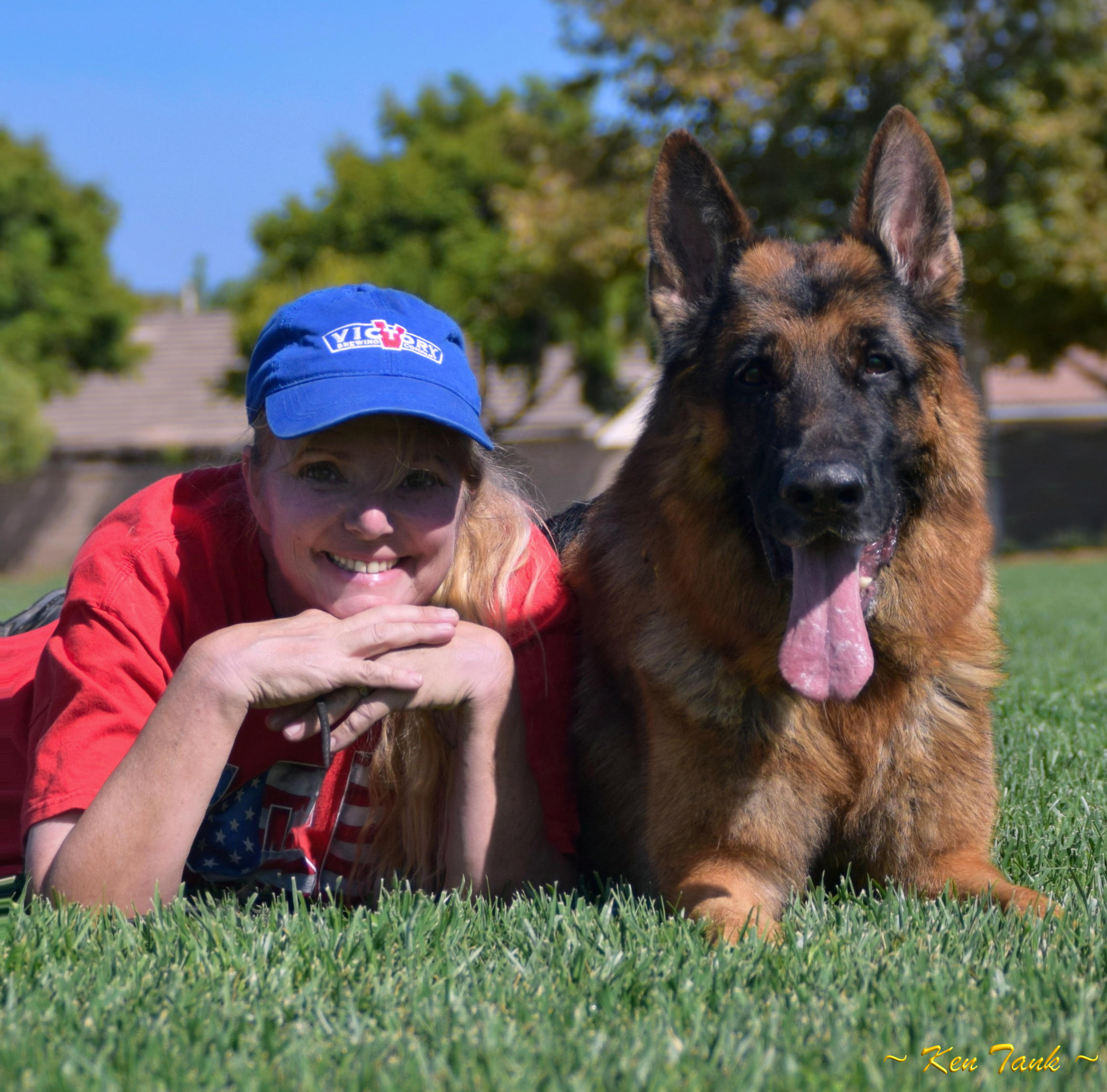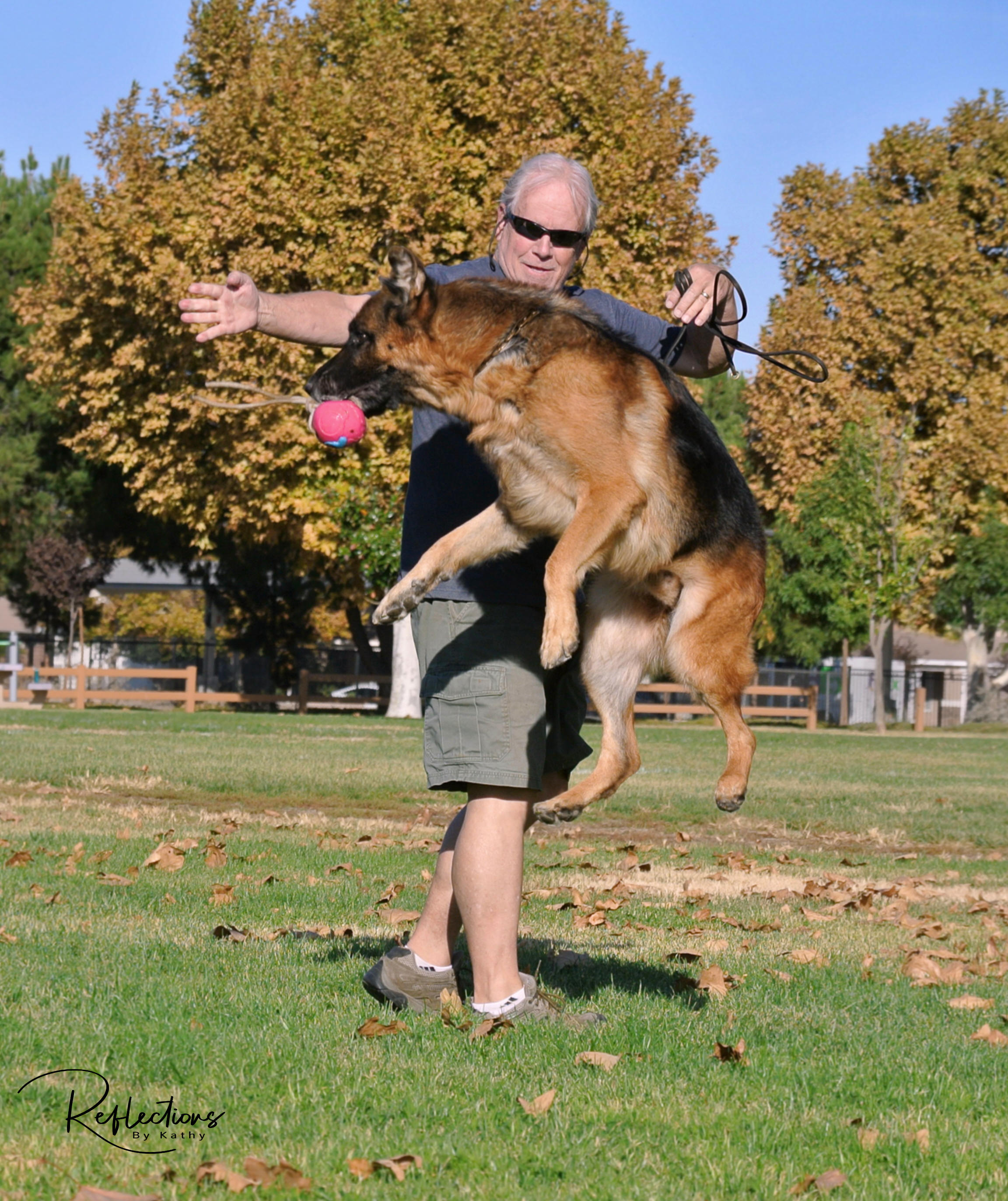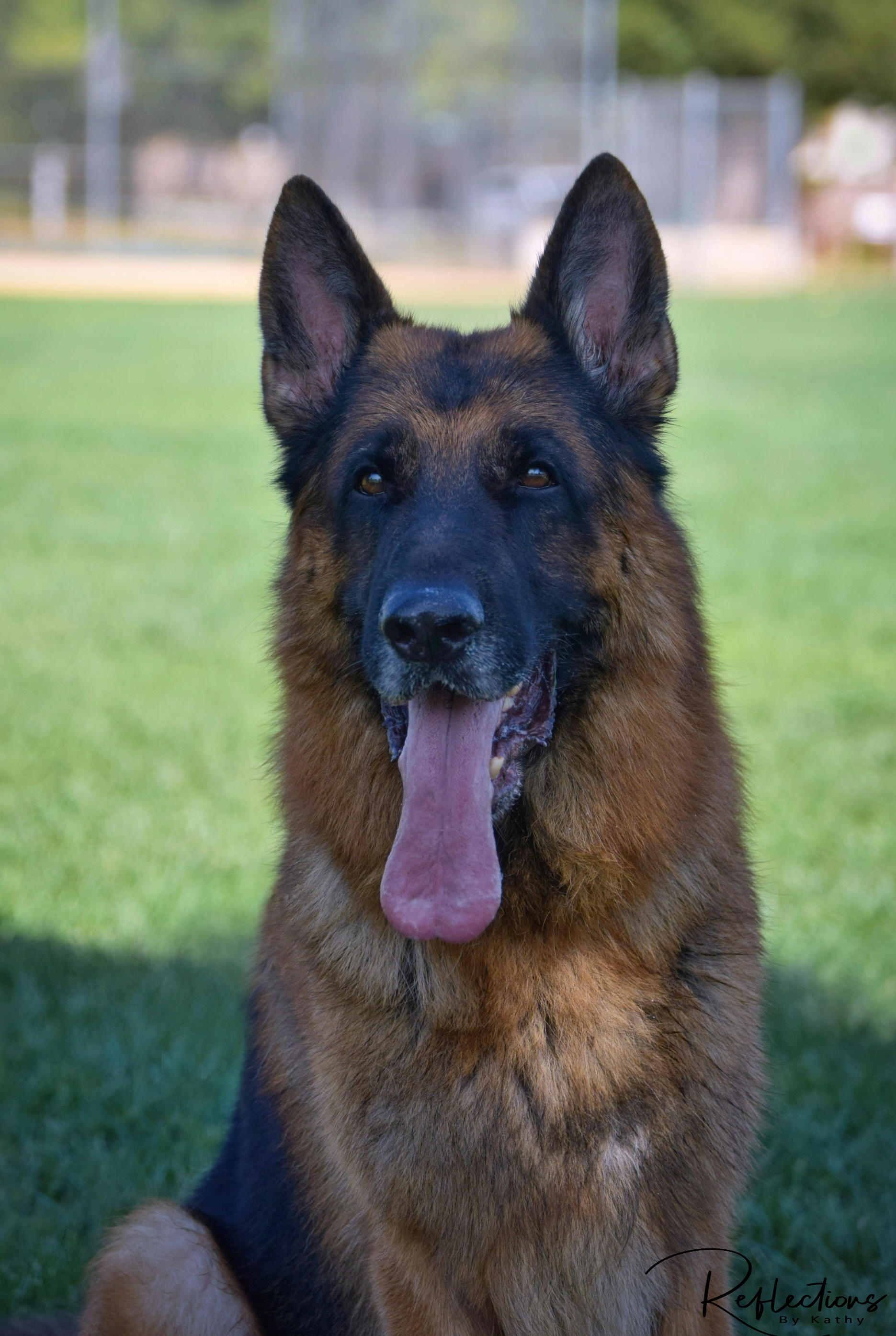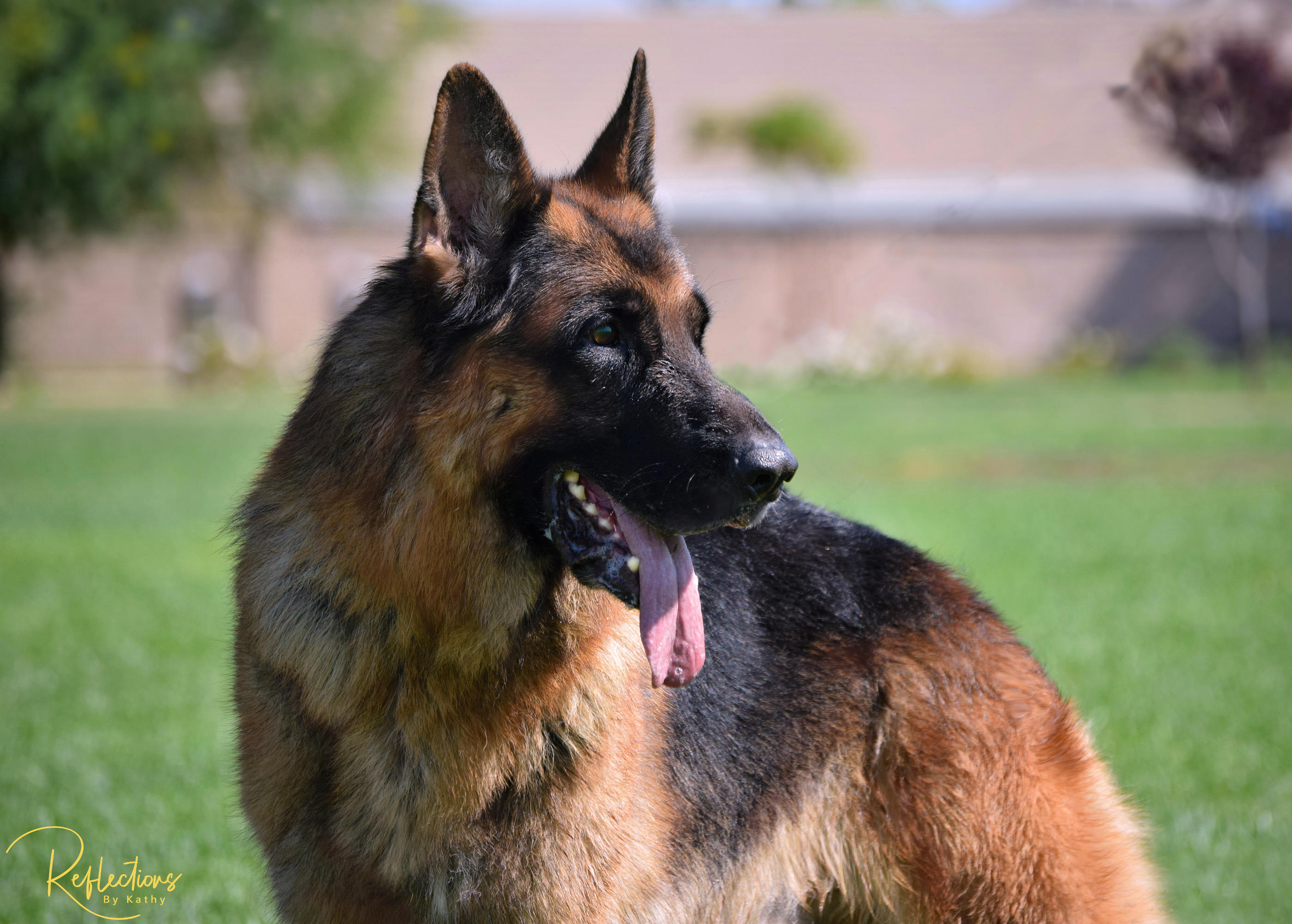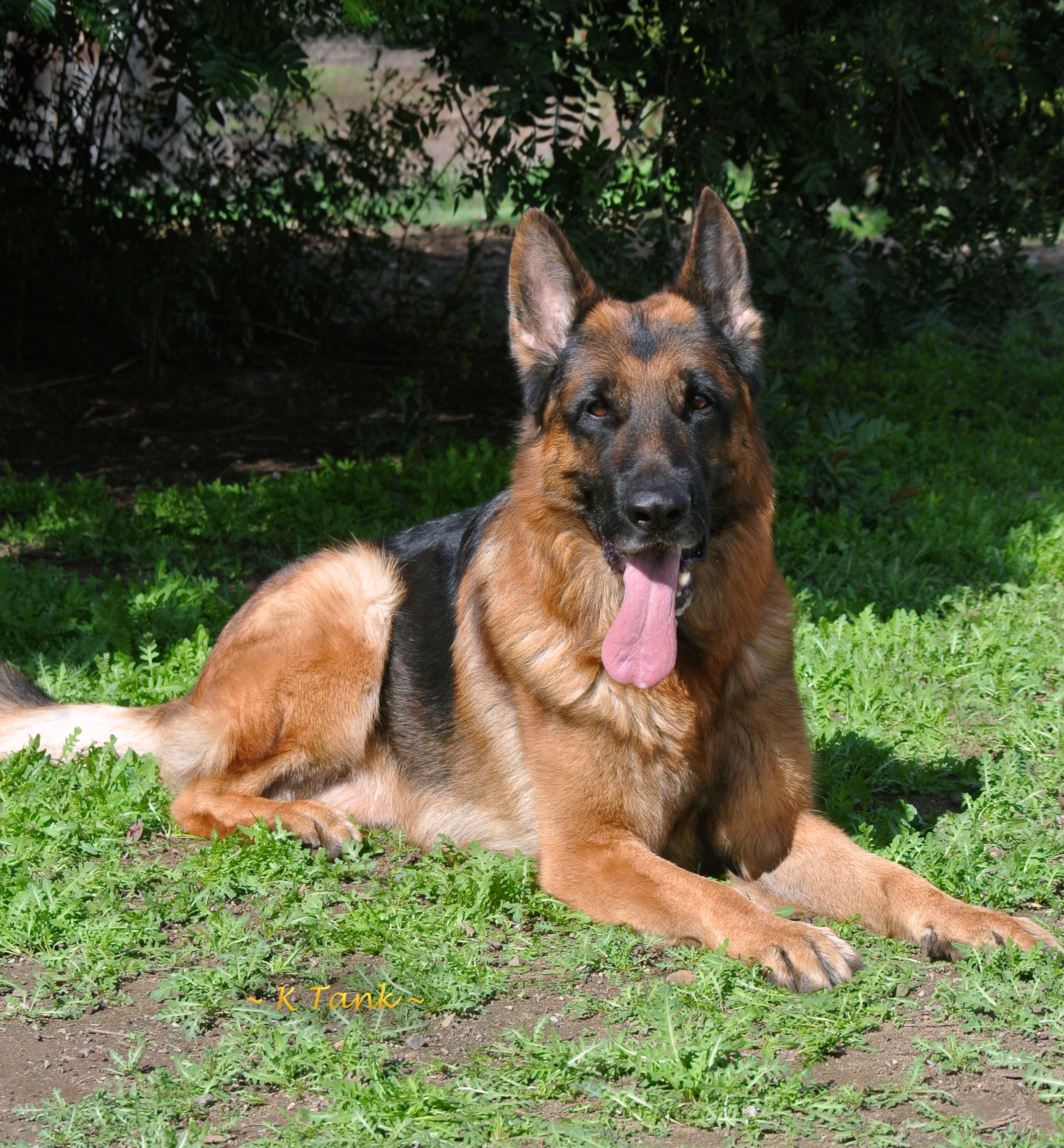 got ATHLETICISM and POWER?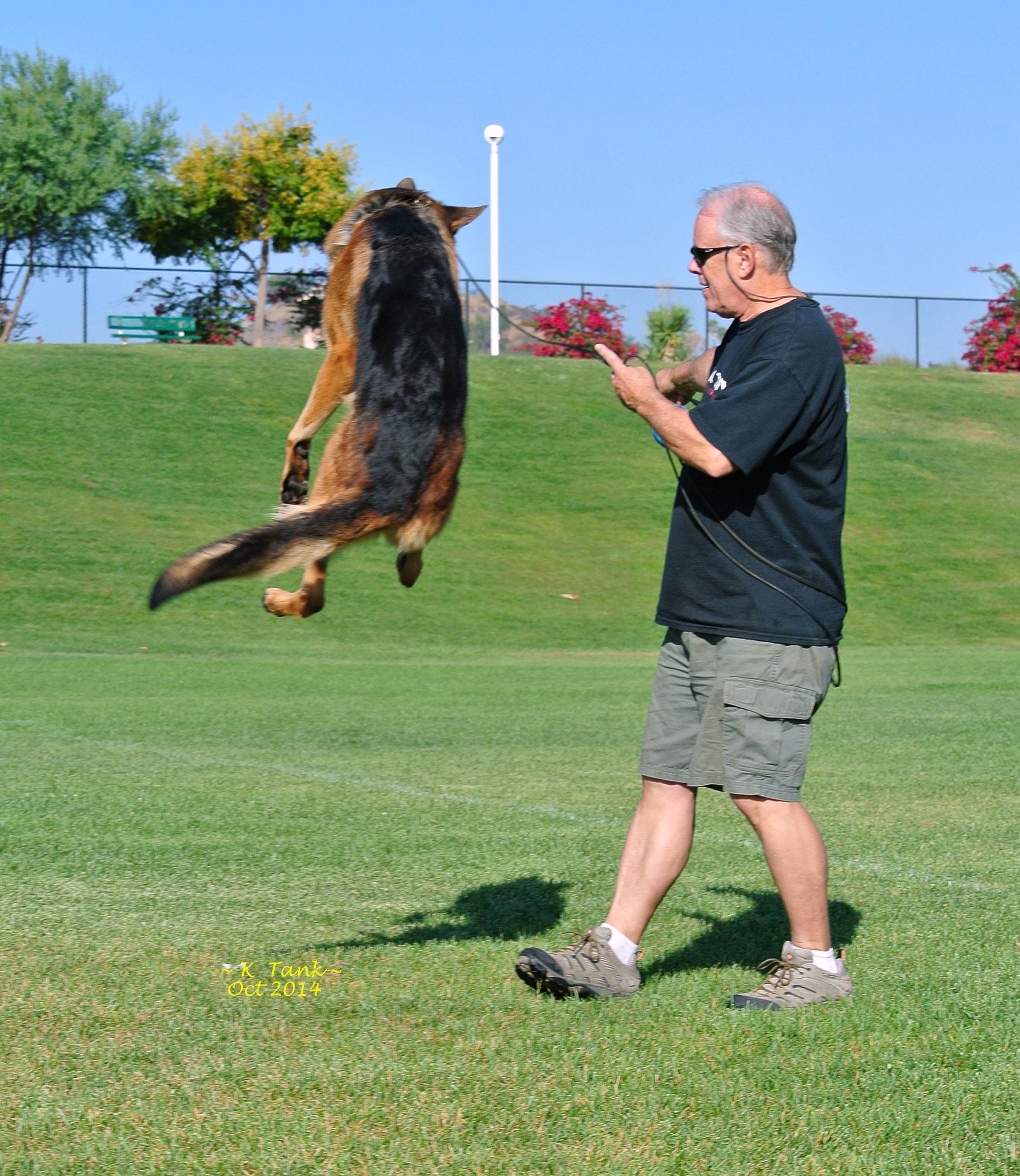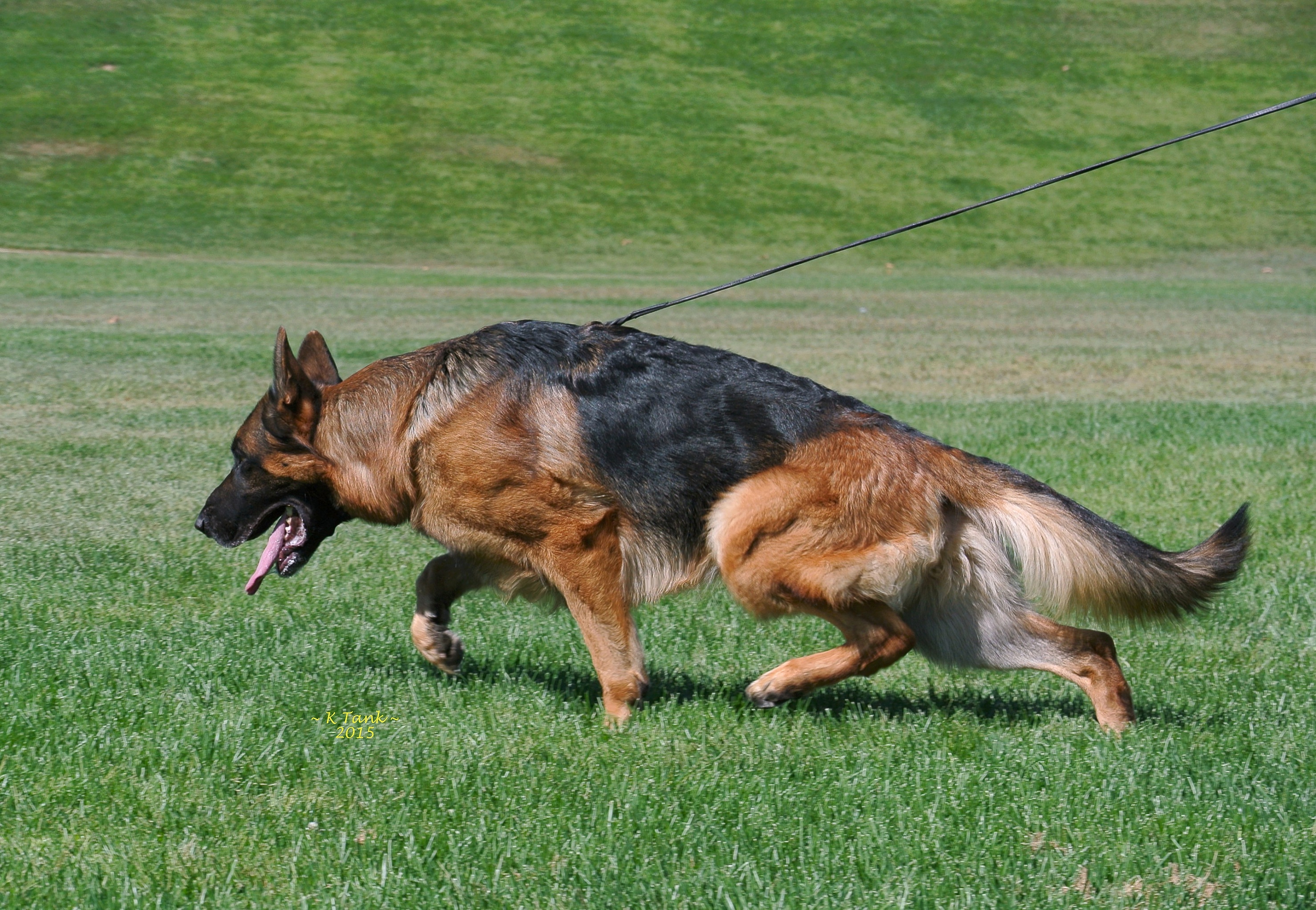 How about BREED TYPE???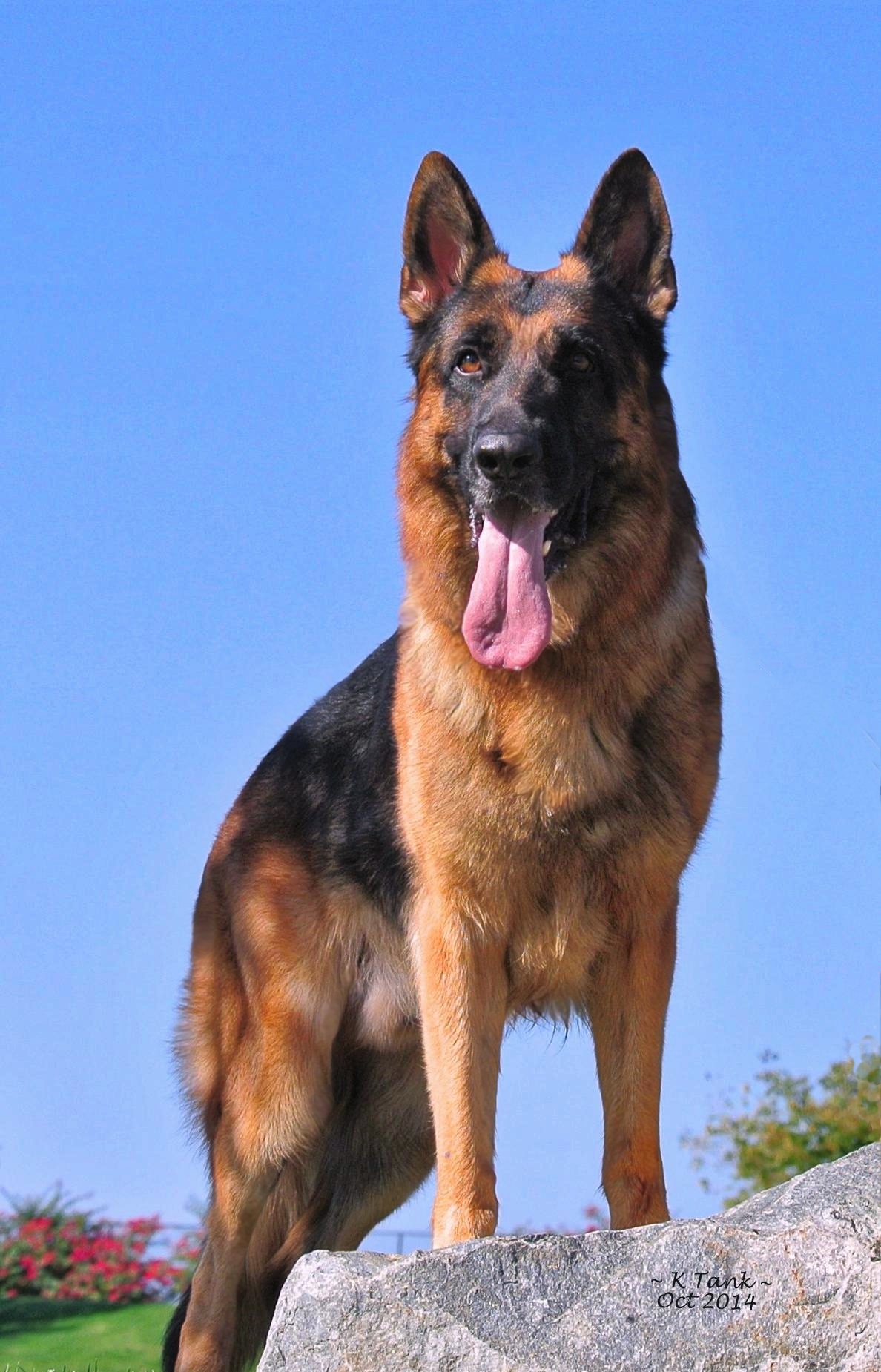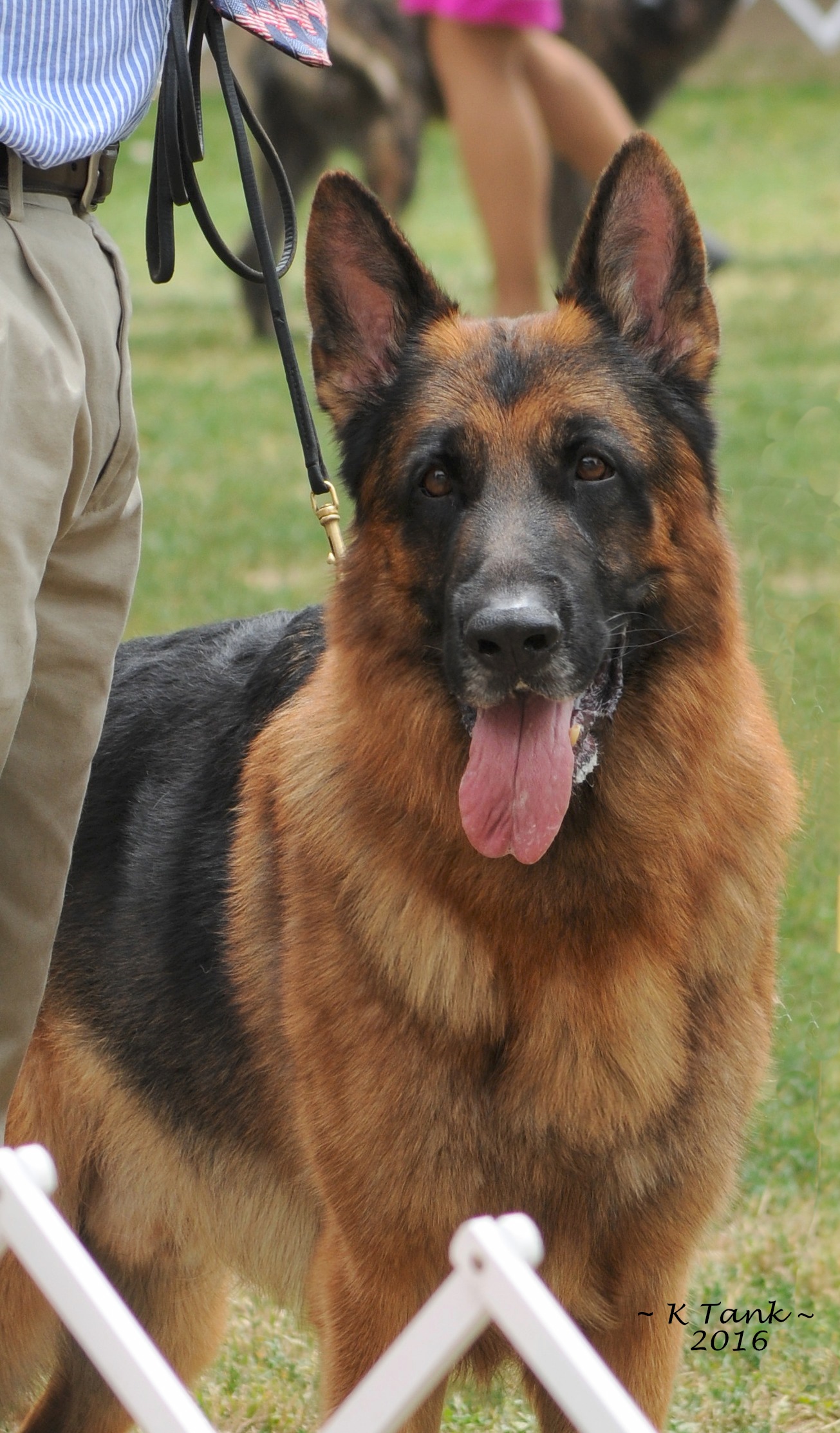 Have you ROCK SOLID TEMPERAMENT??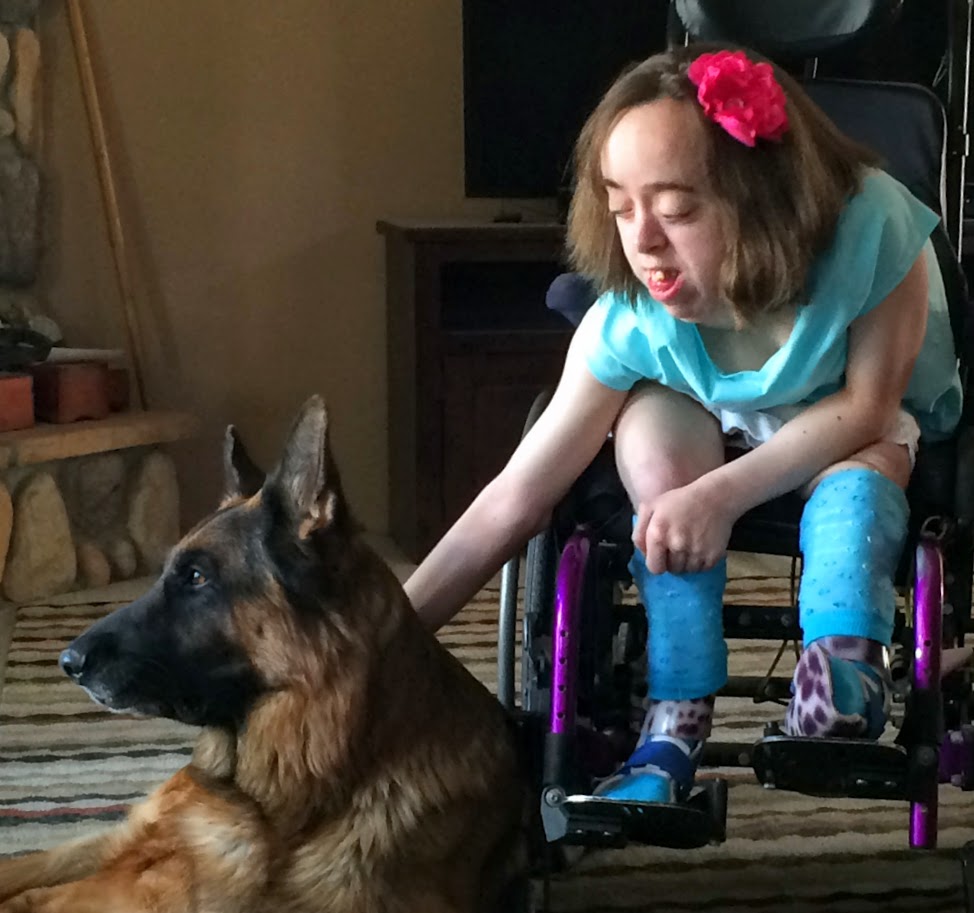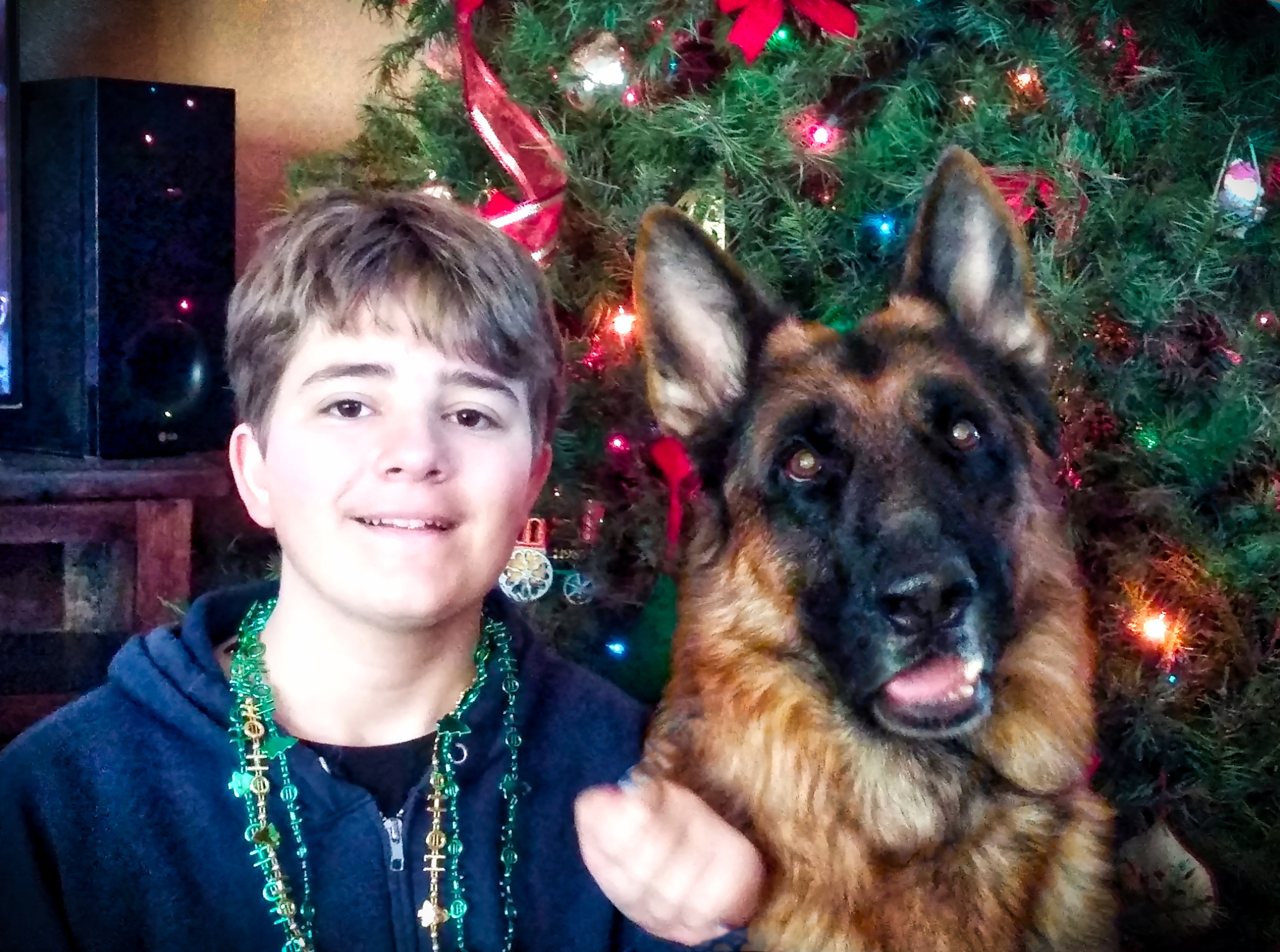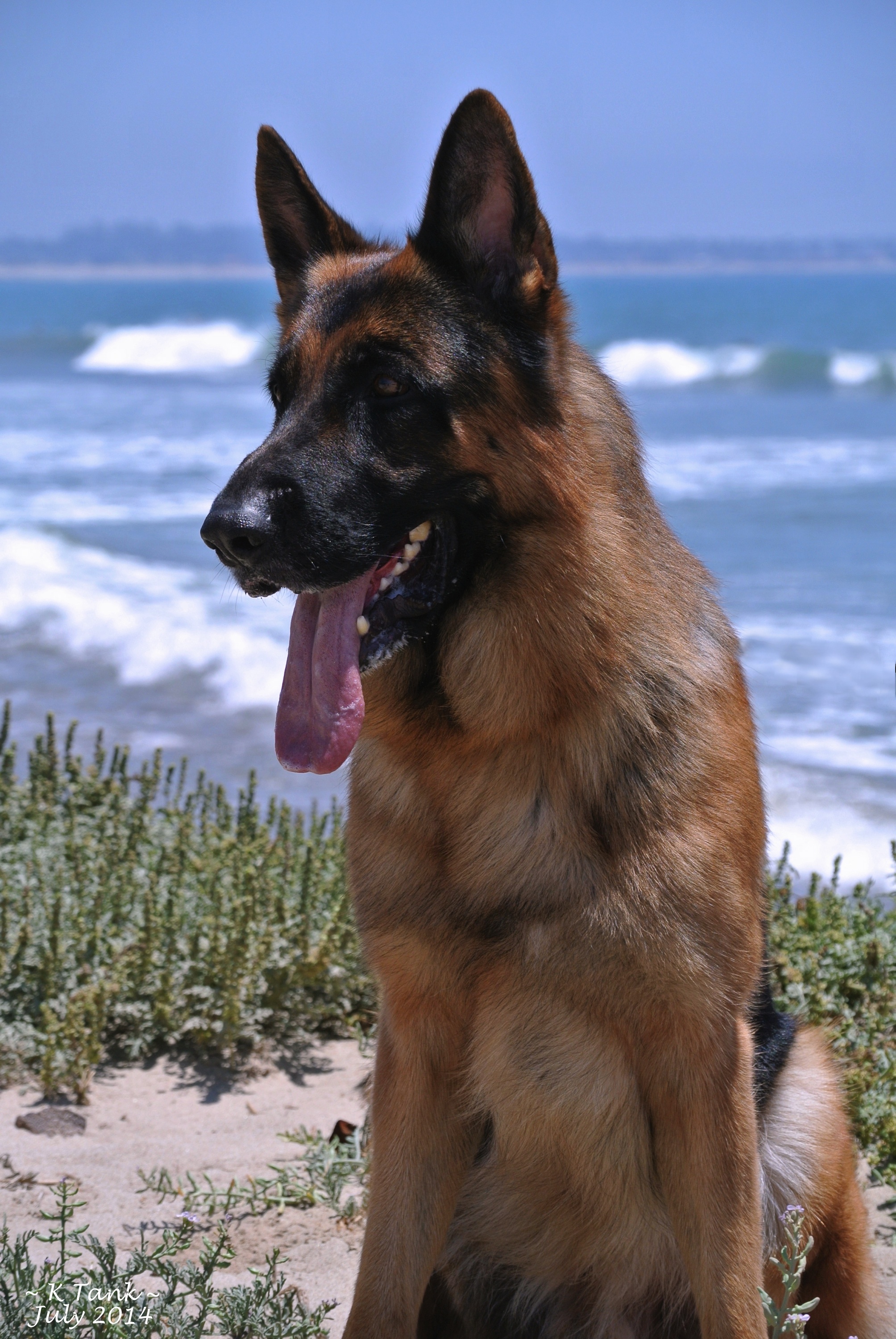 "Kappo " at the beach
KAPPO'S SIRE: The Incredible V GECK DI CASA NOBILI, SChH3, KKL1a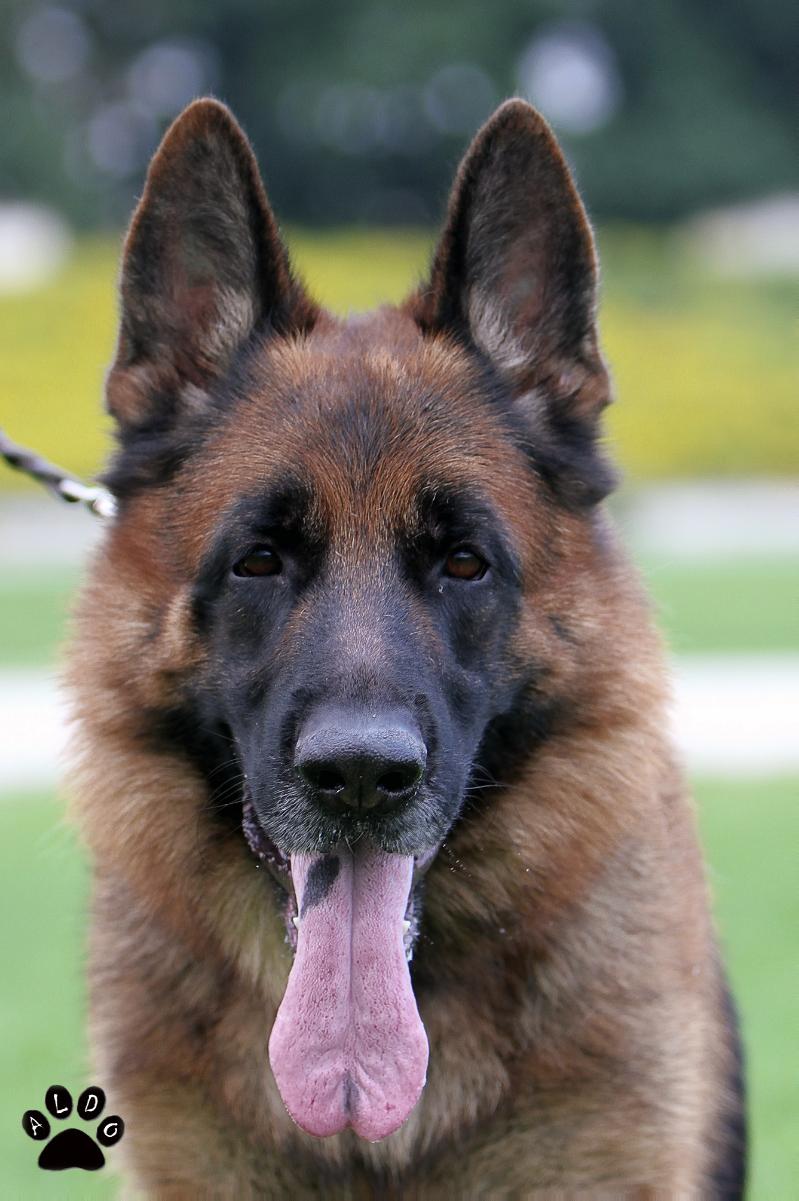 Stunning Portrait of "Geck" by Aldo Basile 2010
(Grazie Aldo, Amico Caro Mio, for allowing us to use the above photo of "Geck")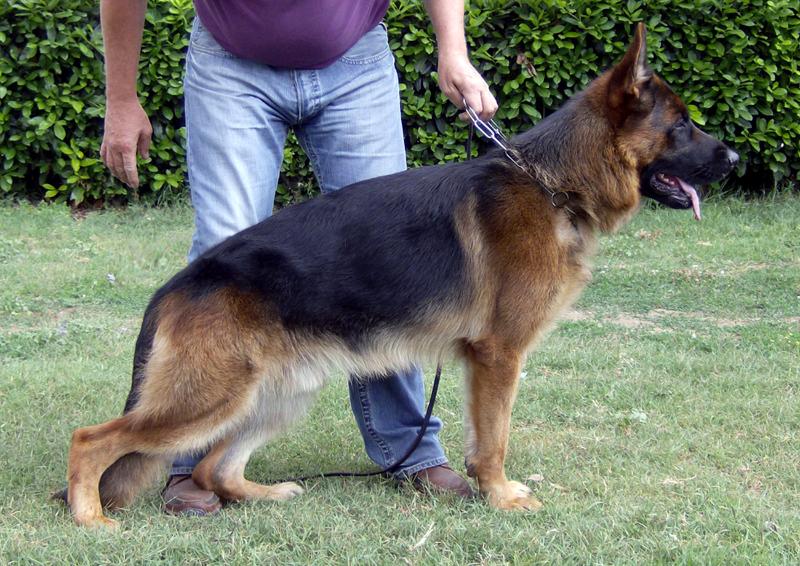 ~~~~Kappo's Dam: The Beautiful V DASHKA VOM HAUS BERENDORF, SChH 1, TST, IPO , KKL1a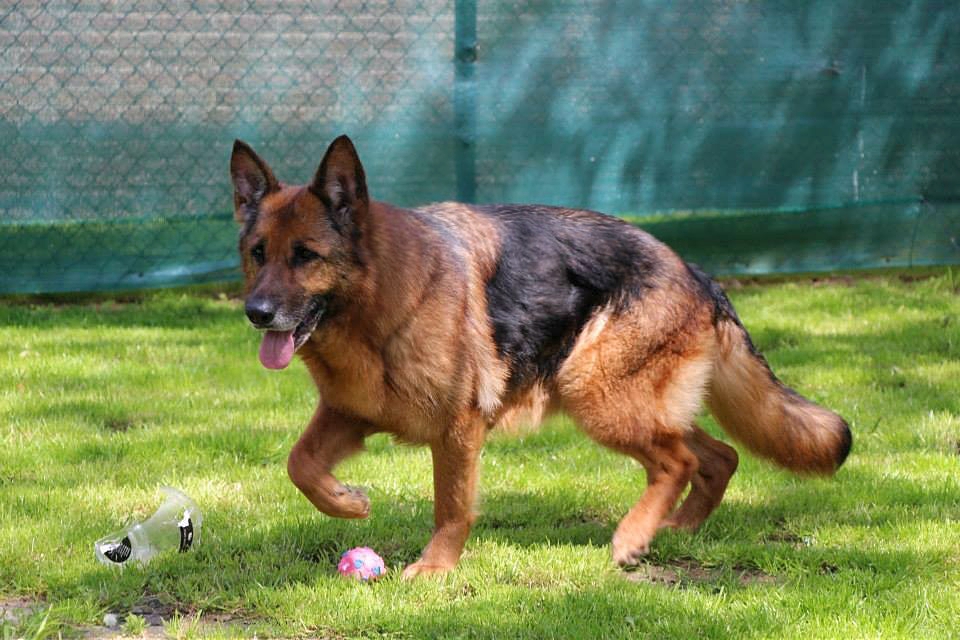 "Dashka"
Owned and loved by Wendy de Wilde, Belgium.
NOW, INTRODUCING...."KAPPO"
"Kappo" is ofa excellent hips and ofa normal elbows,
temperament certified
We are THRILLED TO ANNOUNCE THAT HE IS NOW:
AKC CHAMPION "KAPPO"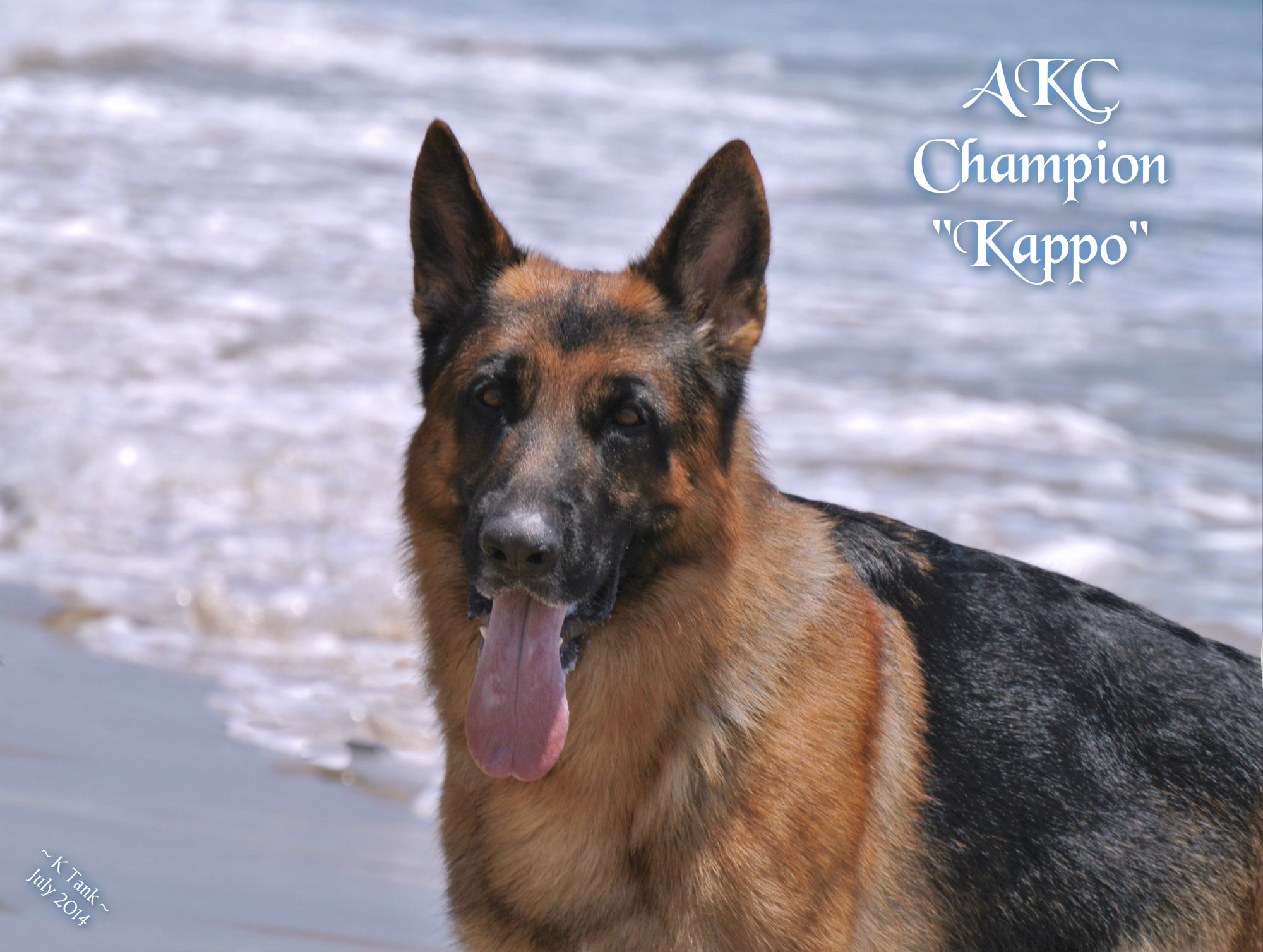 Kappo would like to thank the GSDCA Specialist /Breeder Judges,
All Breed AKC BIS Judges , AKC Group Judges,
and Foreign BIS Judges that appreciated him all the way to his Championship.
We are gratified and overwhelmed by the response "Ch.Kappo" has received from
all types of judges, ALL SYSTEMS.
KAPPO RECIEVES 4 PT MAJOR SELECT AWARD!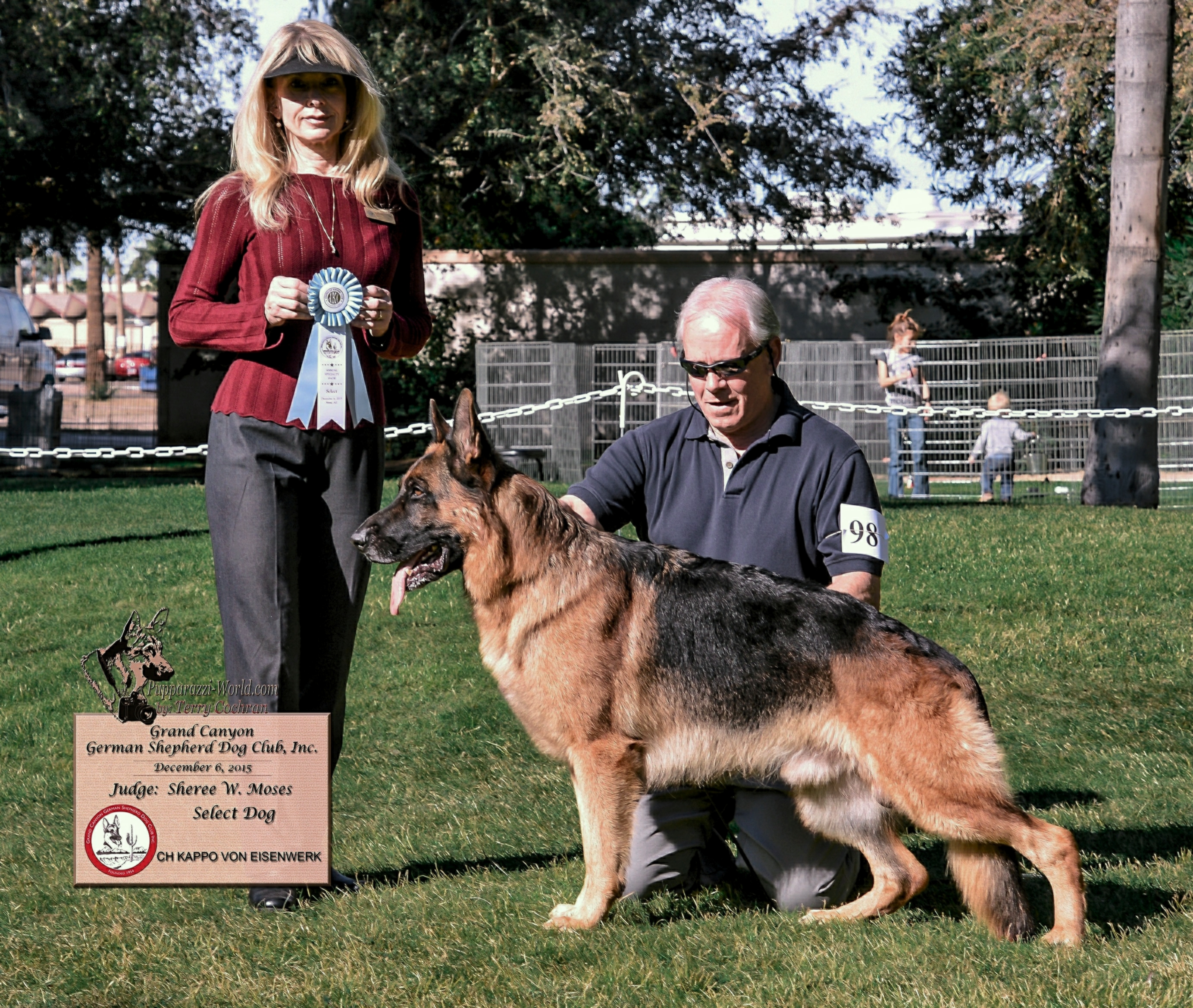 Grand Canyon GSDC Specialty ~ Dec 6, 2015
THANK YOU TO OUR OUTSTANDING JUDGE SHEREE MOSES!
~~
WOW !! KAPPO GETS HIS 2ND, 4 POINT MAJOR SPECIALTY WIN!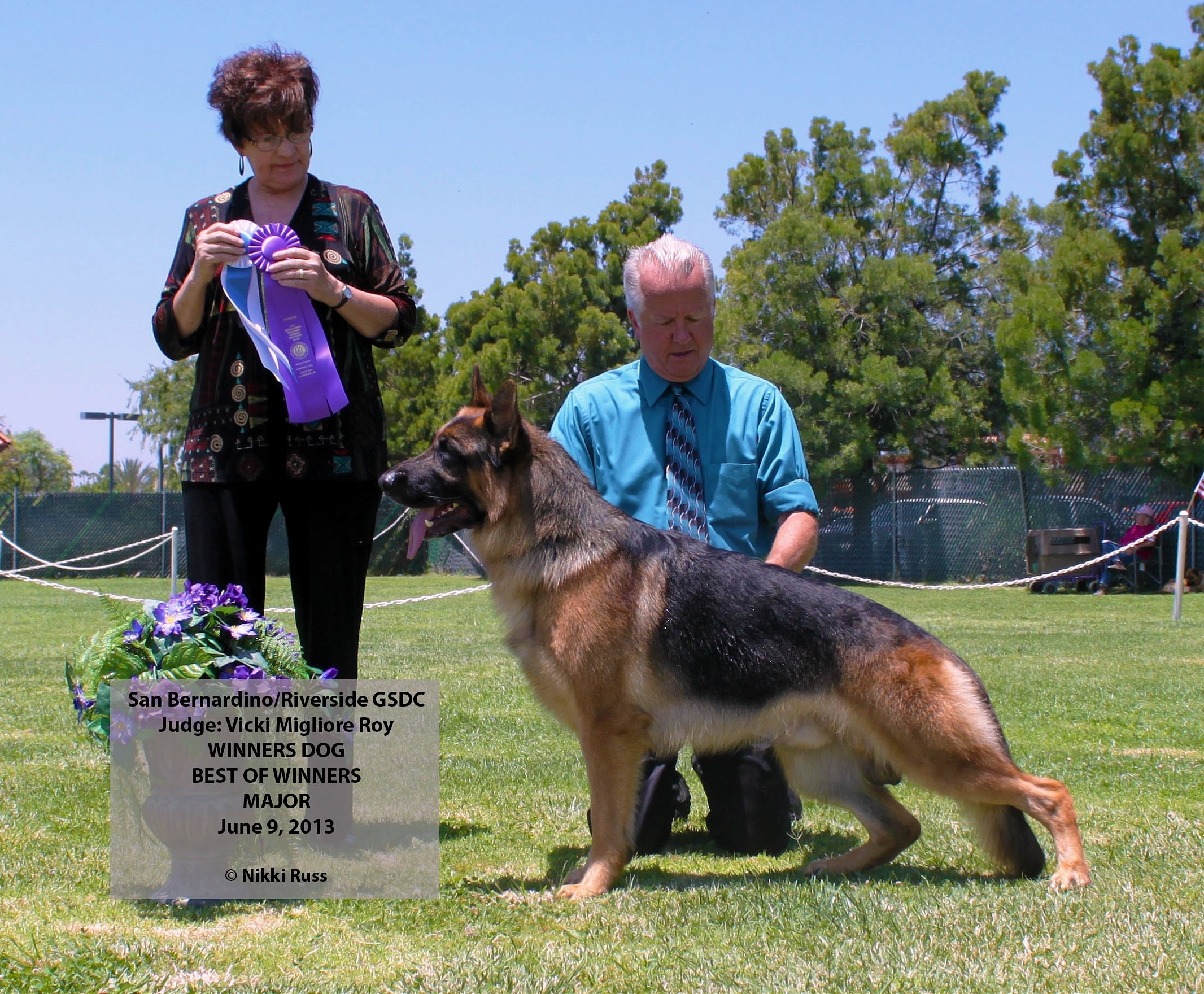 Photo by Nikki Russ
San Bernardino / Riverside GSDC June 9 , 2013
THANK YOU TO OUR ESTEEMED JUDGE VICKY ROYE!!!
Critique of Kappo from this show:
"Large black and red male. Unquestionable masculinity. He is a dog of Exceptional breed type.
Superb head piece and good ears and ear set .He was well muscled and powerful.
He has correct proportions and correct ribbing. Teeth large and well formed.
Excellent back and overline. Excellent bone.
This is a real stallion of dog. In motion he is balanced and harmonious with a pleasing, moderate sidegait.
He owns the ground he stands on and shows a calm confidence combined with the appearance of vitality, energy and vigor. While it is impossible to fully assess temperament in the ring in just a few moments, he certainly gave me every indication on this day, that he possesses superb character. " Judge Vicky M. Roye
~~~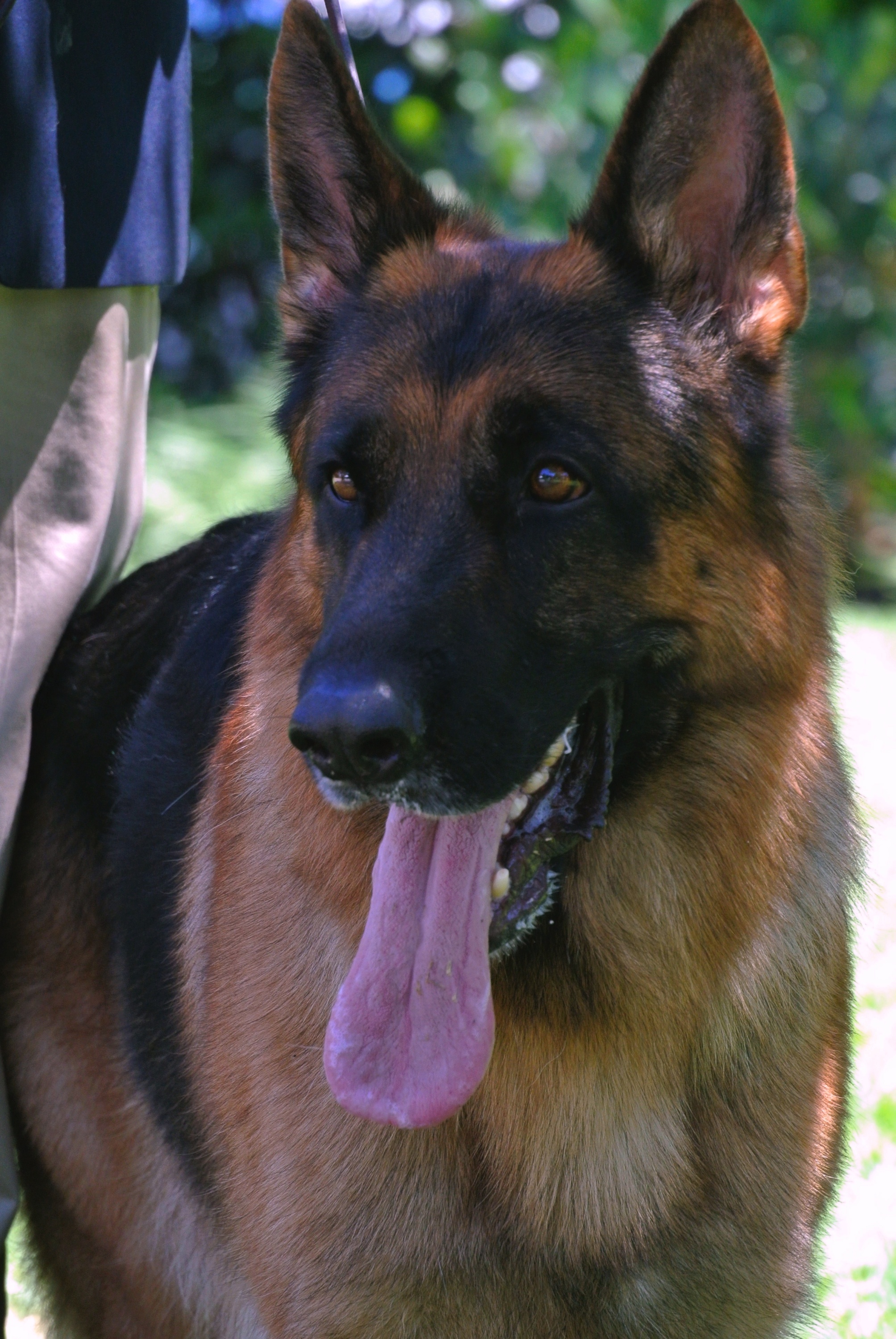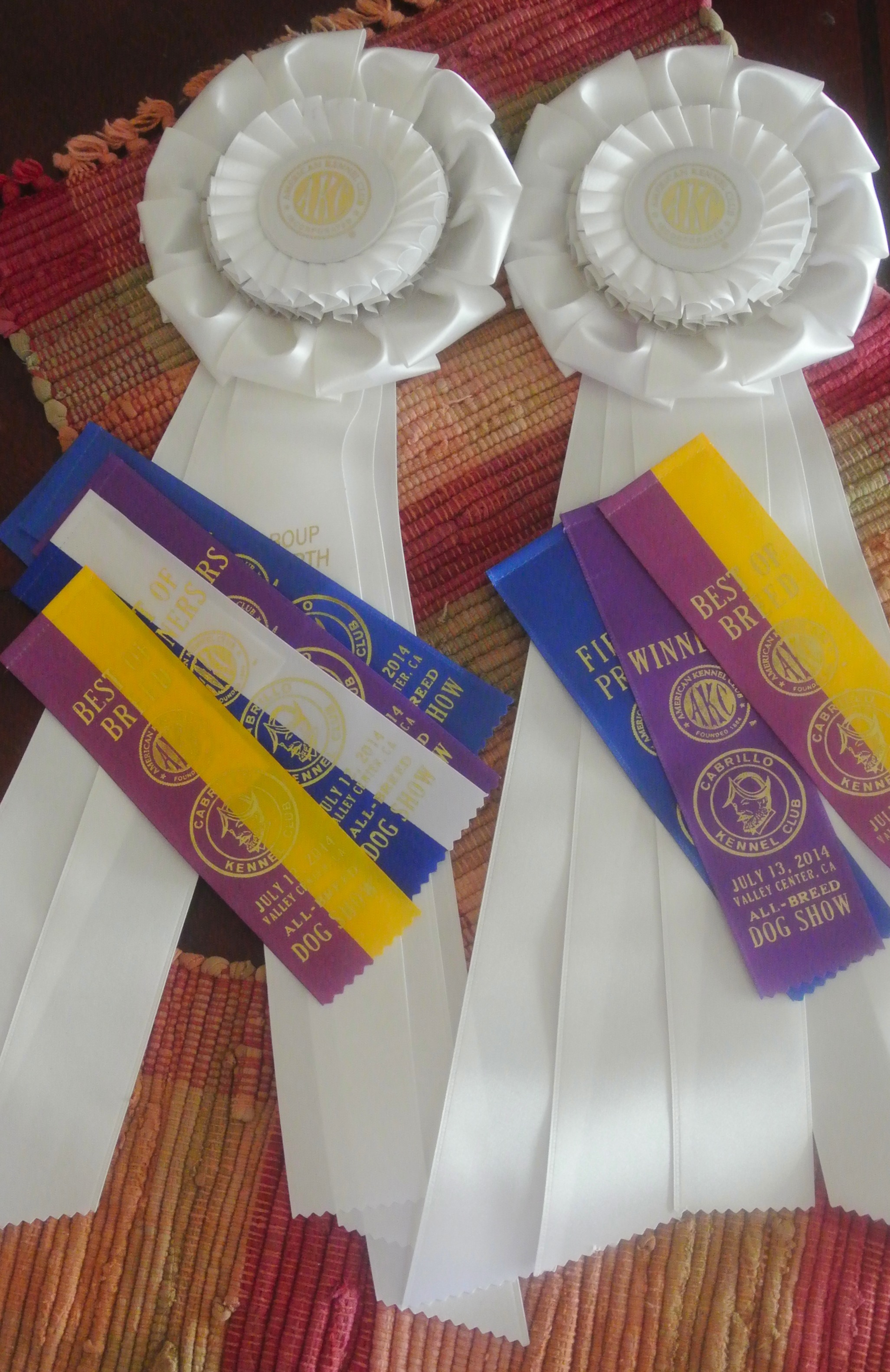 JULY 13, 2014
Kappo WD, BOW, Best of Breed and Back-to-Back Group 4ths FROM THE CLASSES!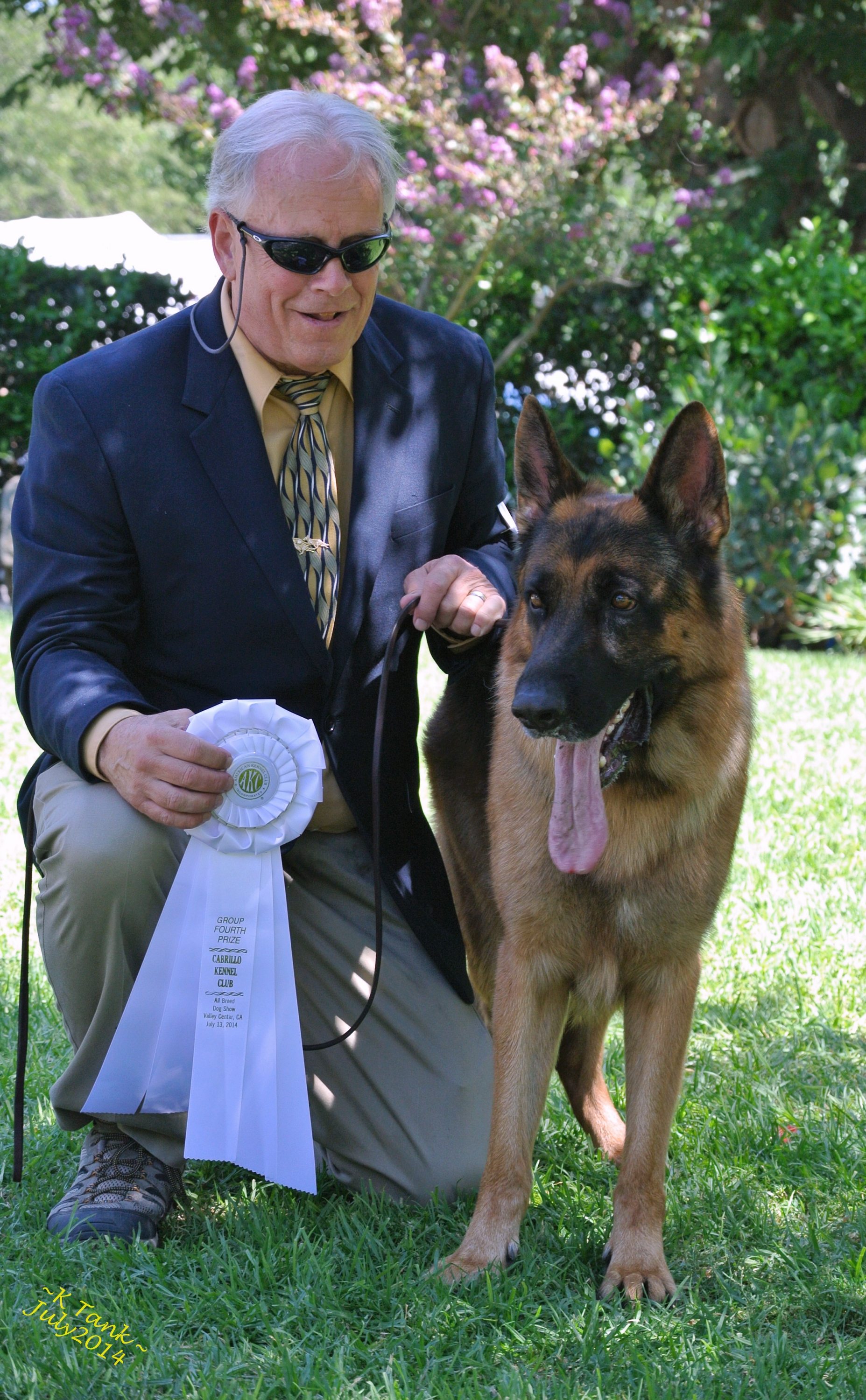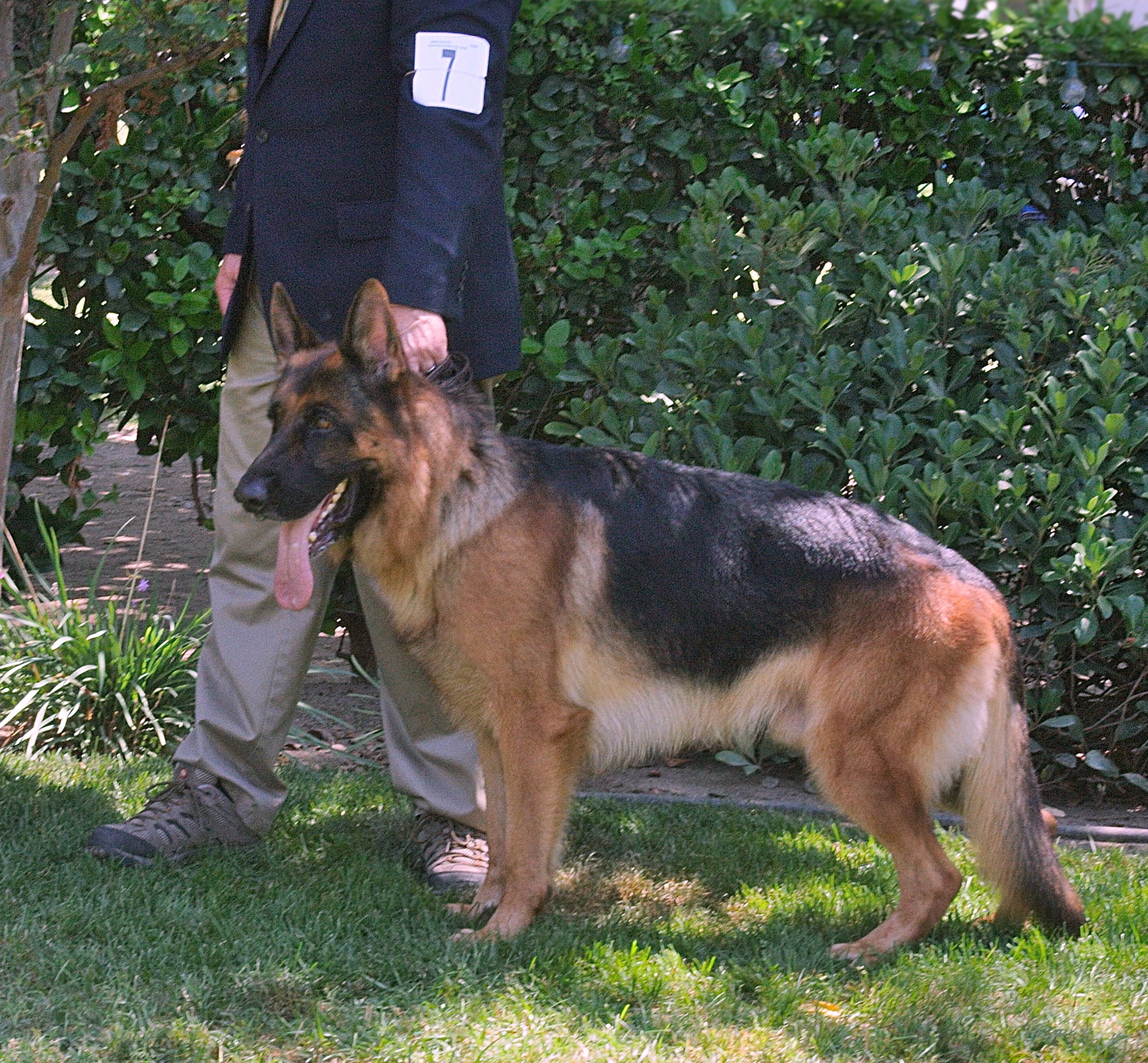 WELL DONE KAPPO! NOW ONLY NEEDING A SINGLE POINT
TO FINISH HIS AKC CHAMPIONSHIP! (July 13, 2014)
~~~~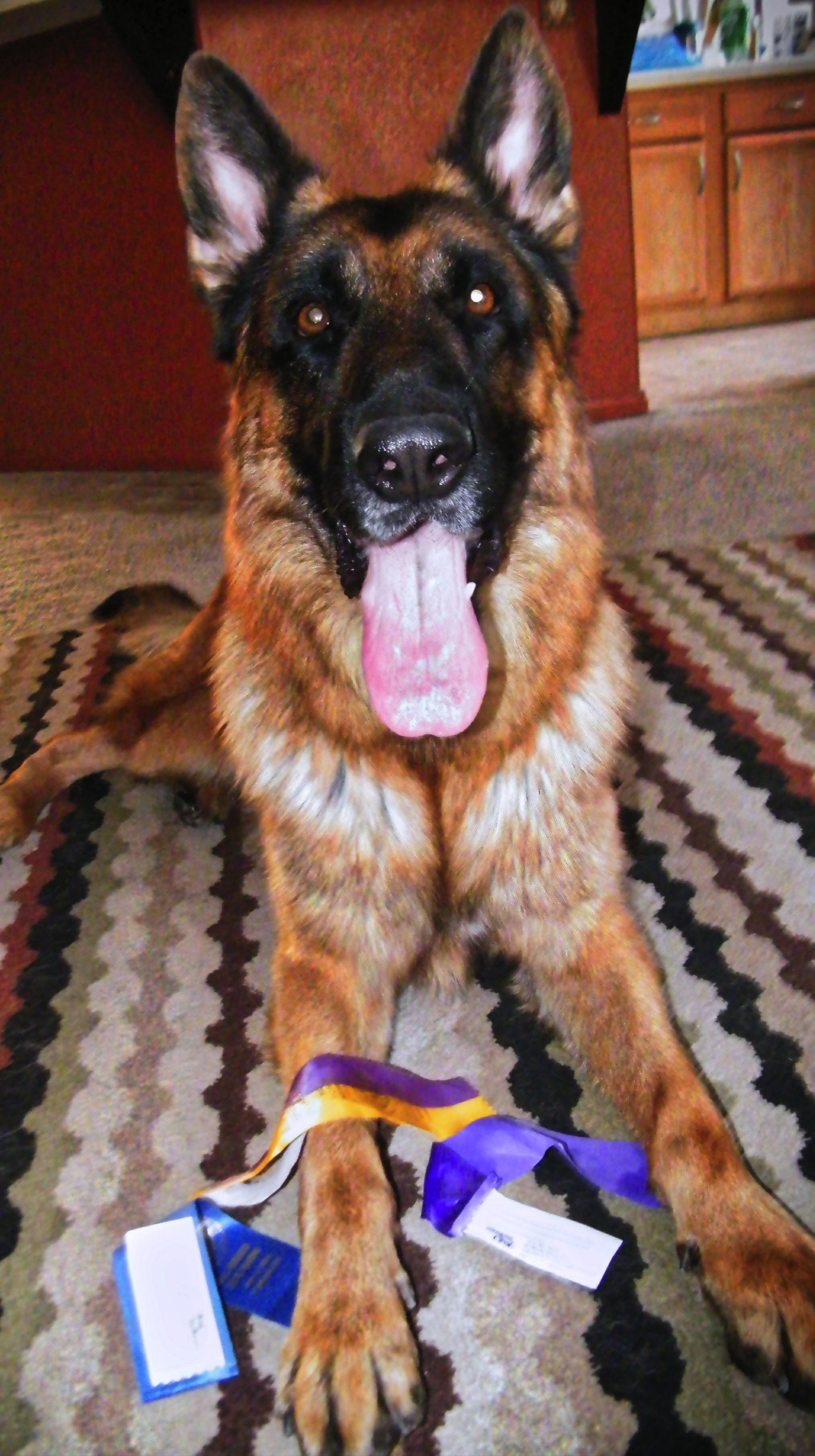 Winners Dog, Best of Winners , Best of Breed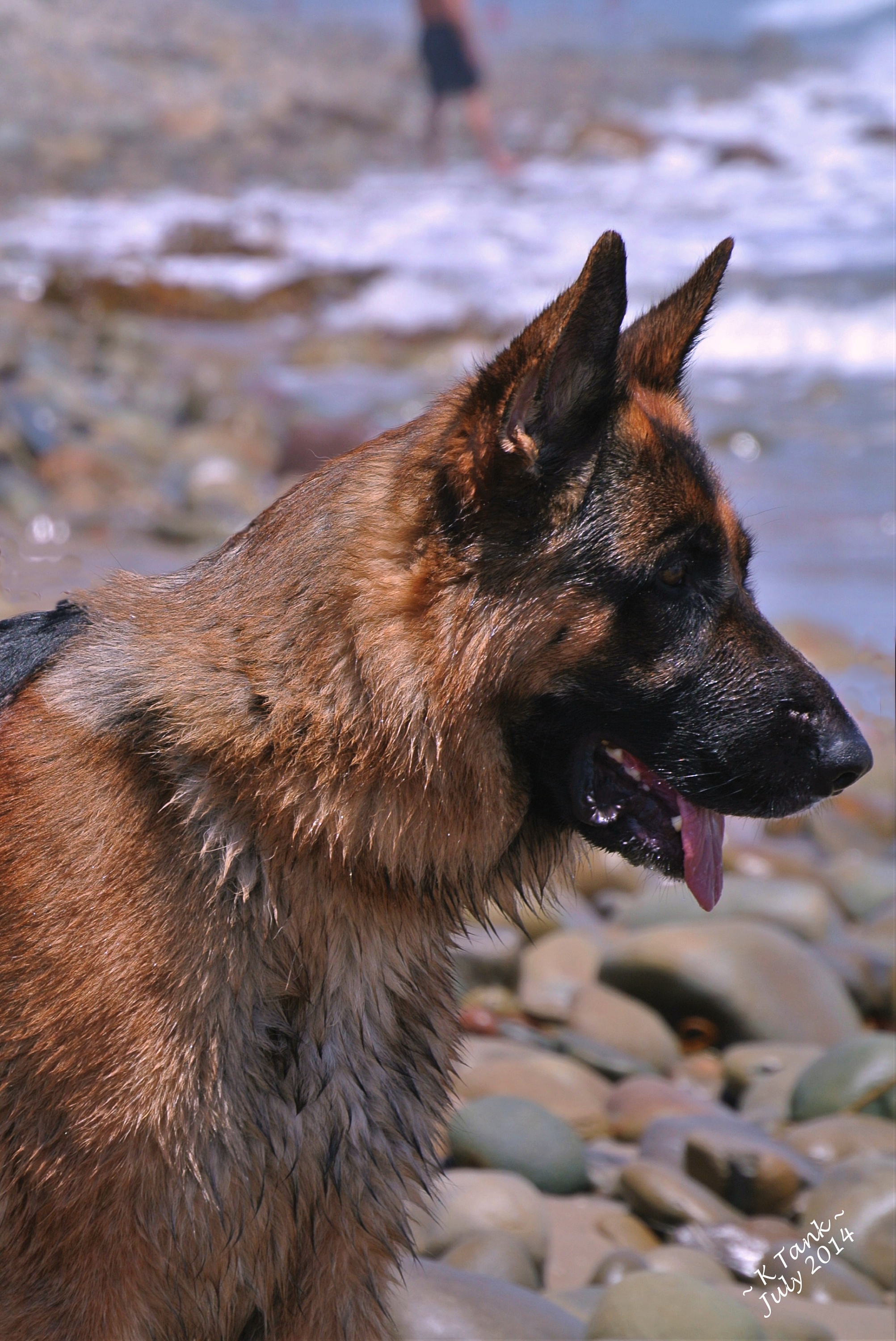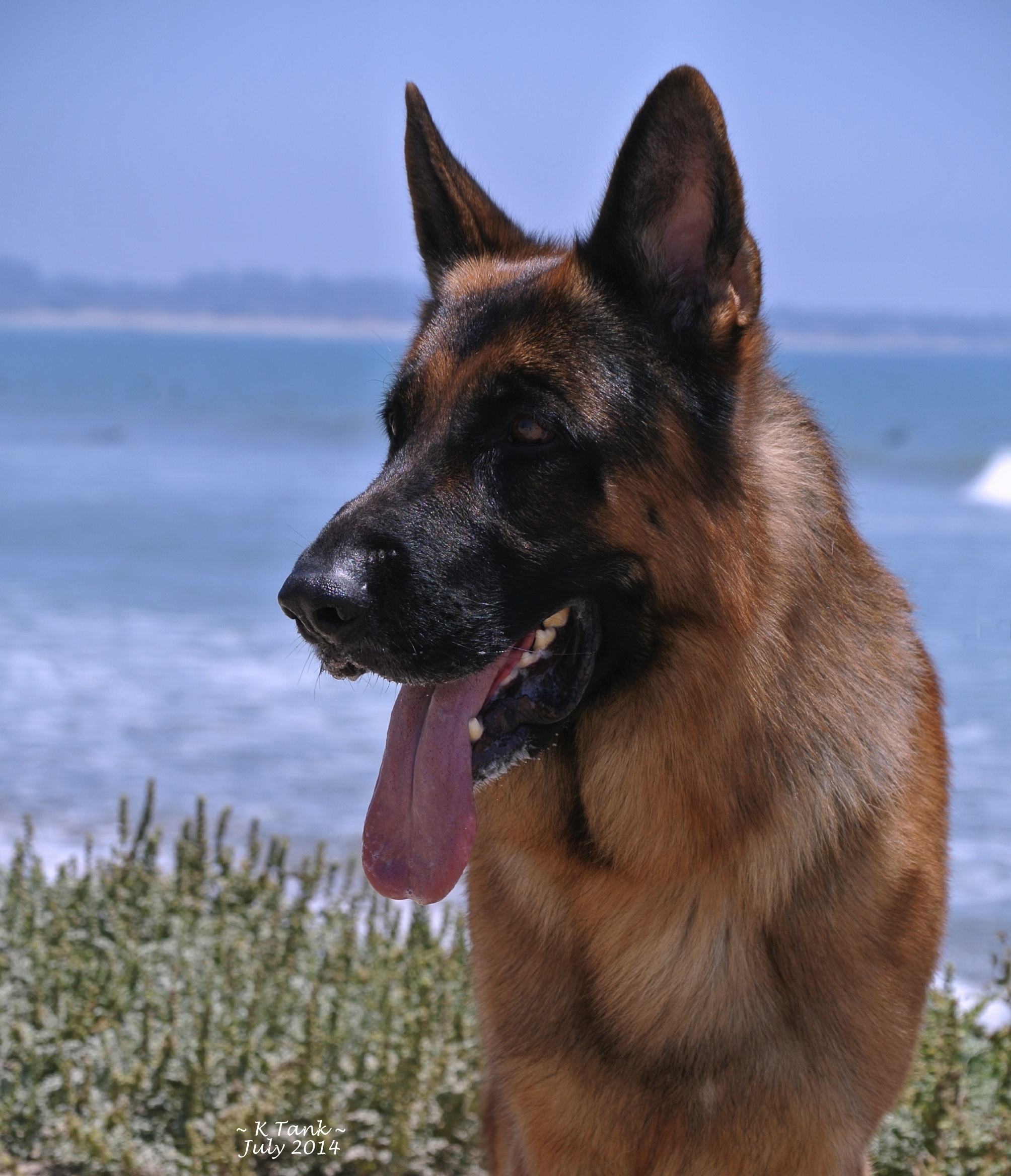 "Unquestionable Masculinity" ~ Judge Vicky Roye.
Thank you to Judges Mr. William Usherwood, and Mrs. Sandy Wheat.
Kappo can do All Breeds too!!
~~~~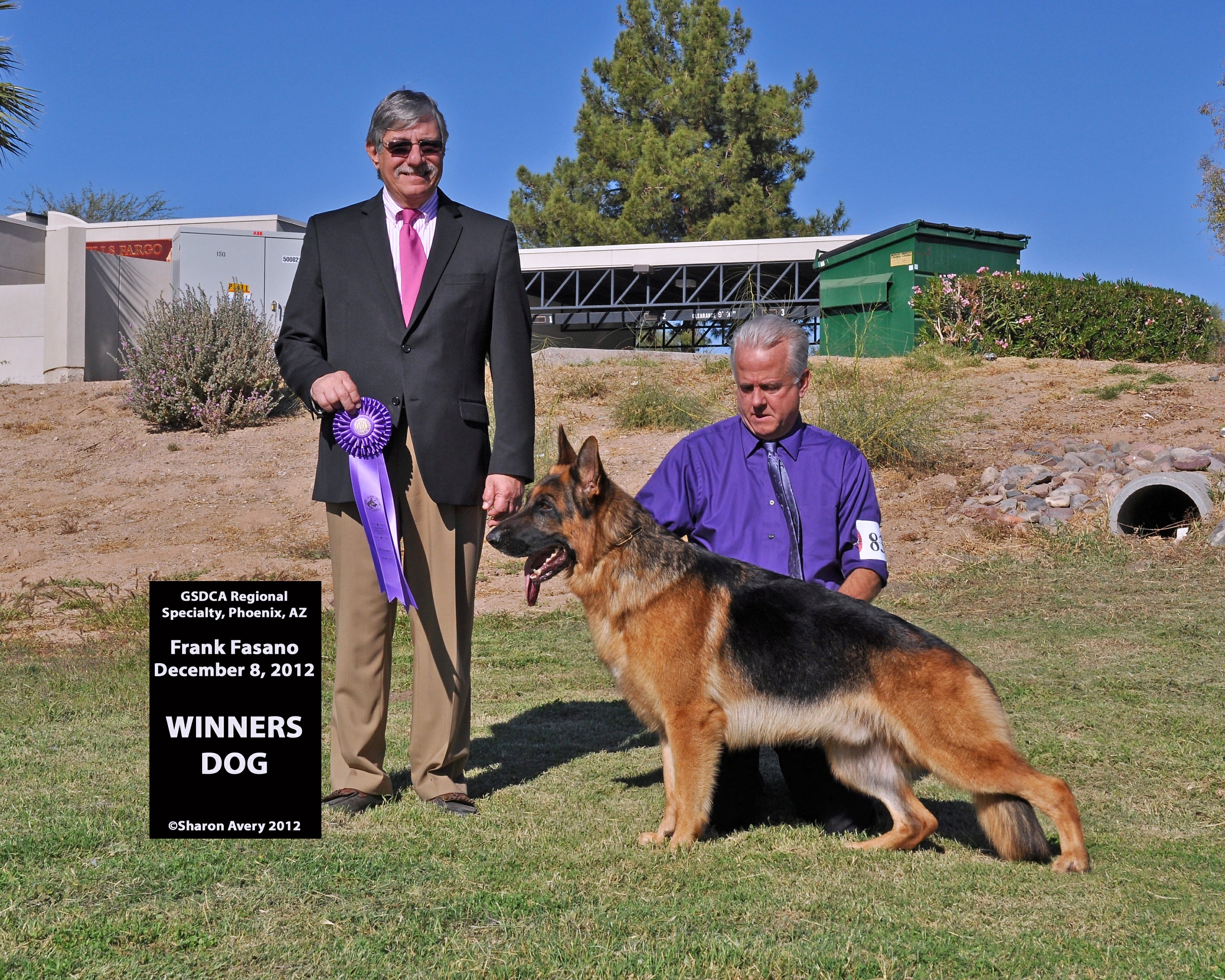 4 POINT MAJOR WINNERS DOG - GSDCA REGIONAL SPECIALTY , PHOENIX AZ!!!
HUGE APPRECIATION TO JUDGE FRANK FASANO, President of the GSDCA.
~~~~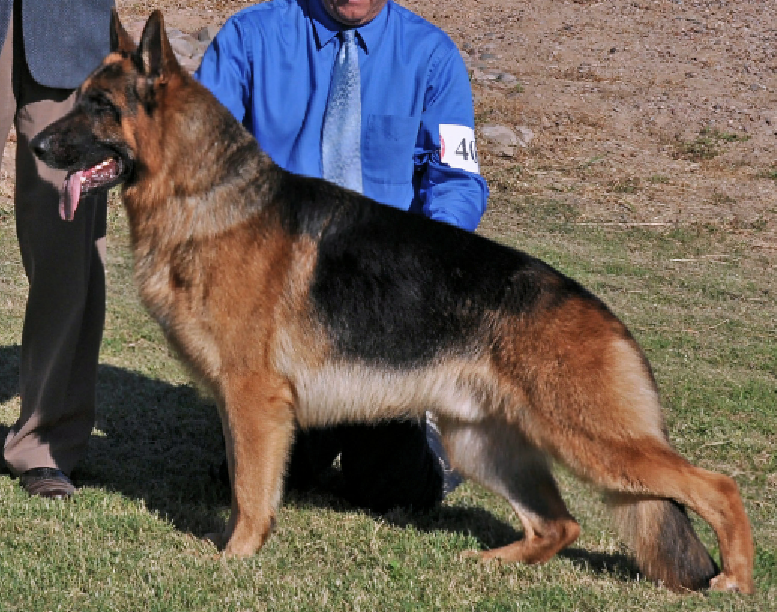 Specialty Four Point Major Reserve ~ Thank you Mr. Dick Jones
~~~~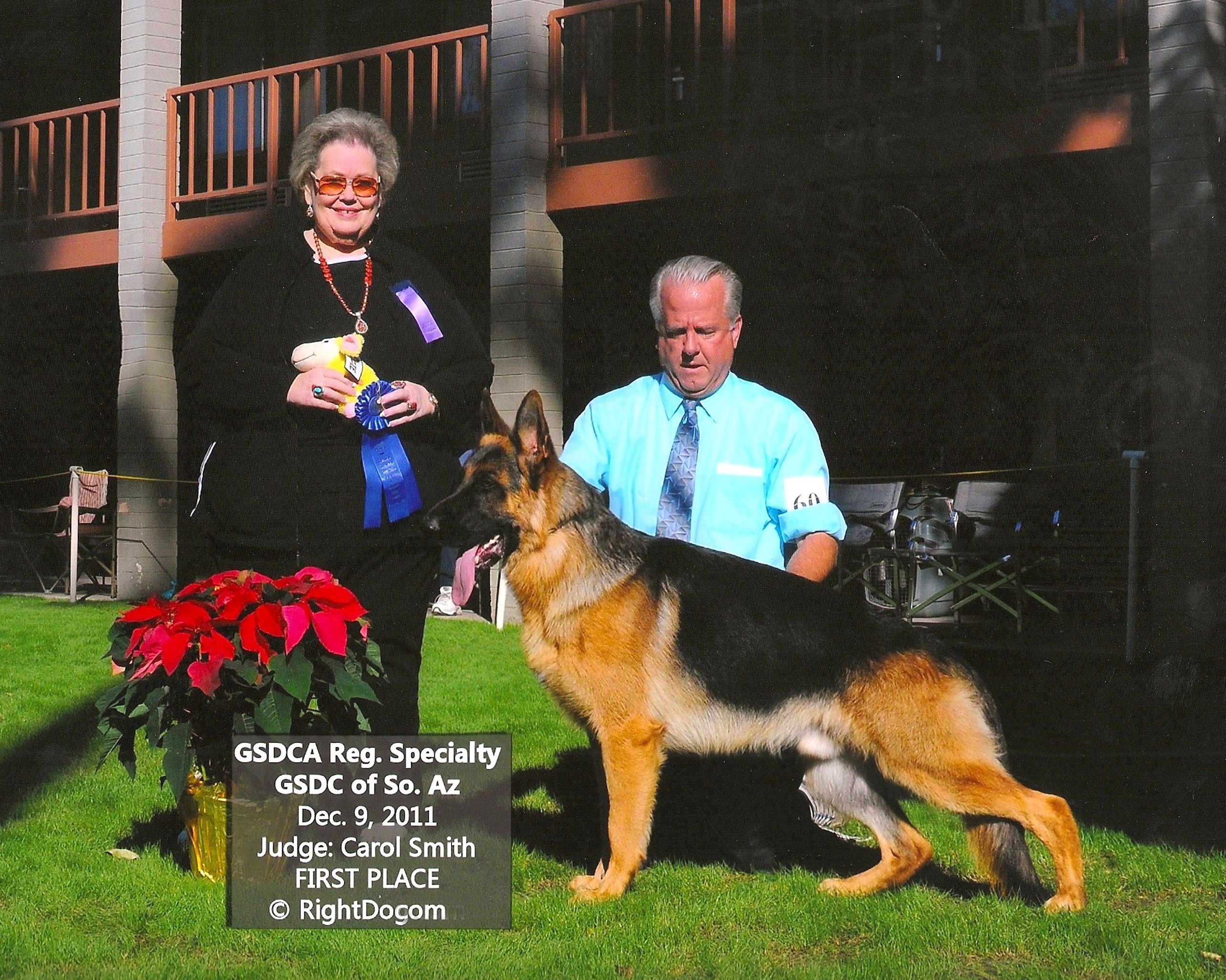 1ST PLACE 12-18 at Tucson 5 pt Major Specialty THANK YOU JUDGE, CAROL SMITH!!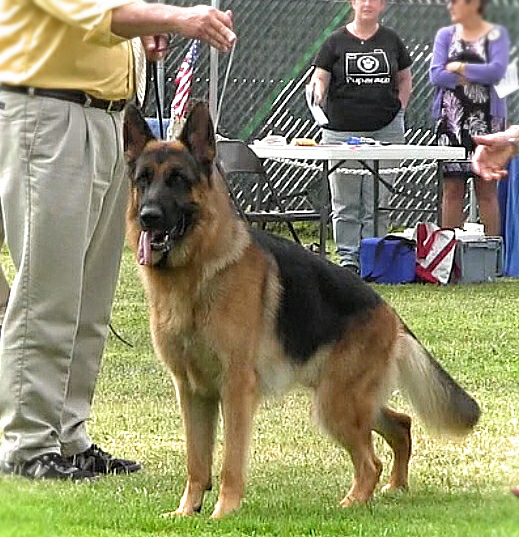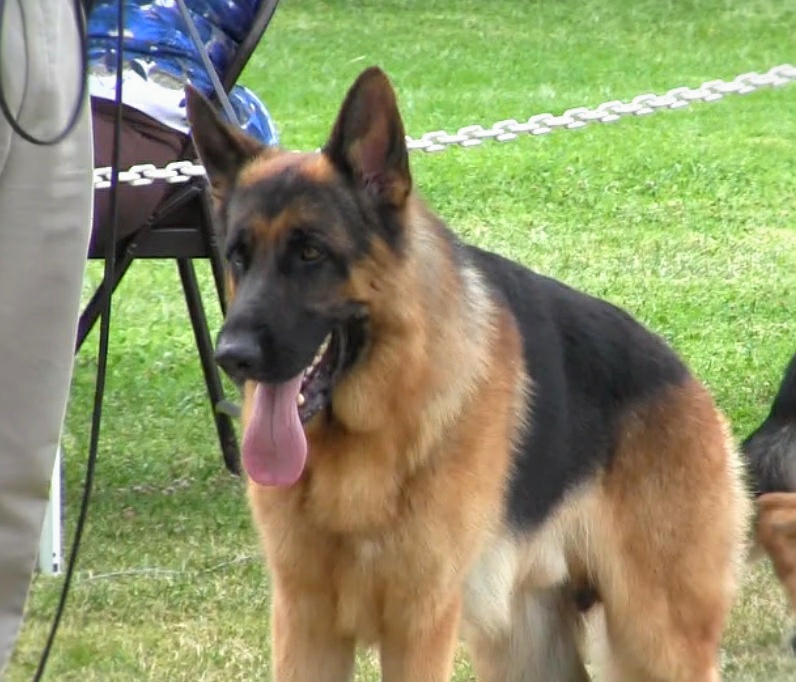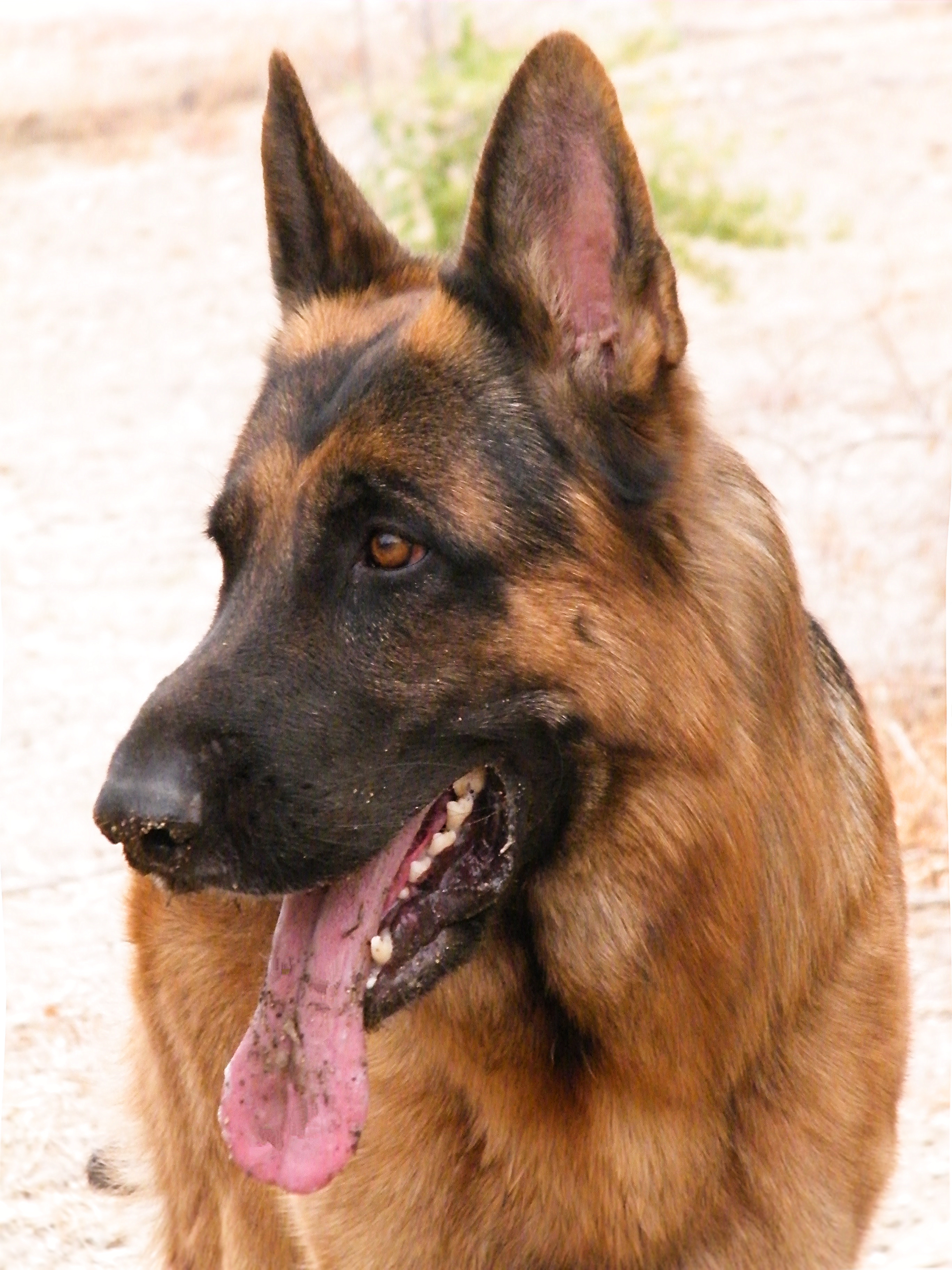 Kappo head at just 22 mos old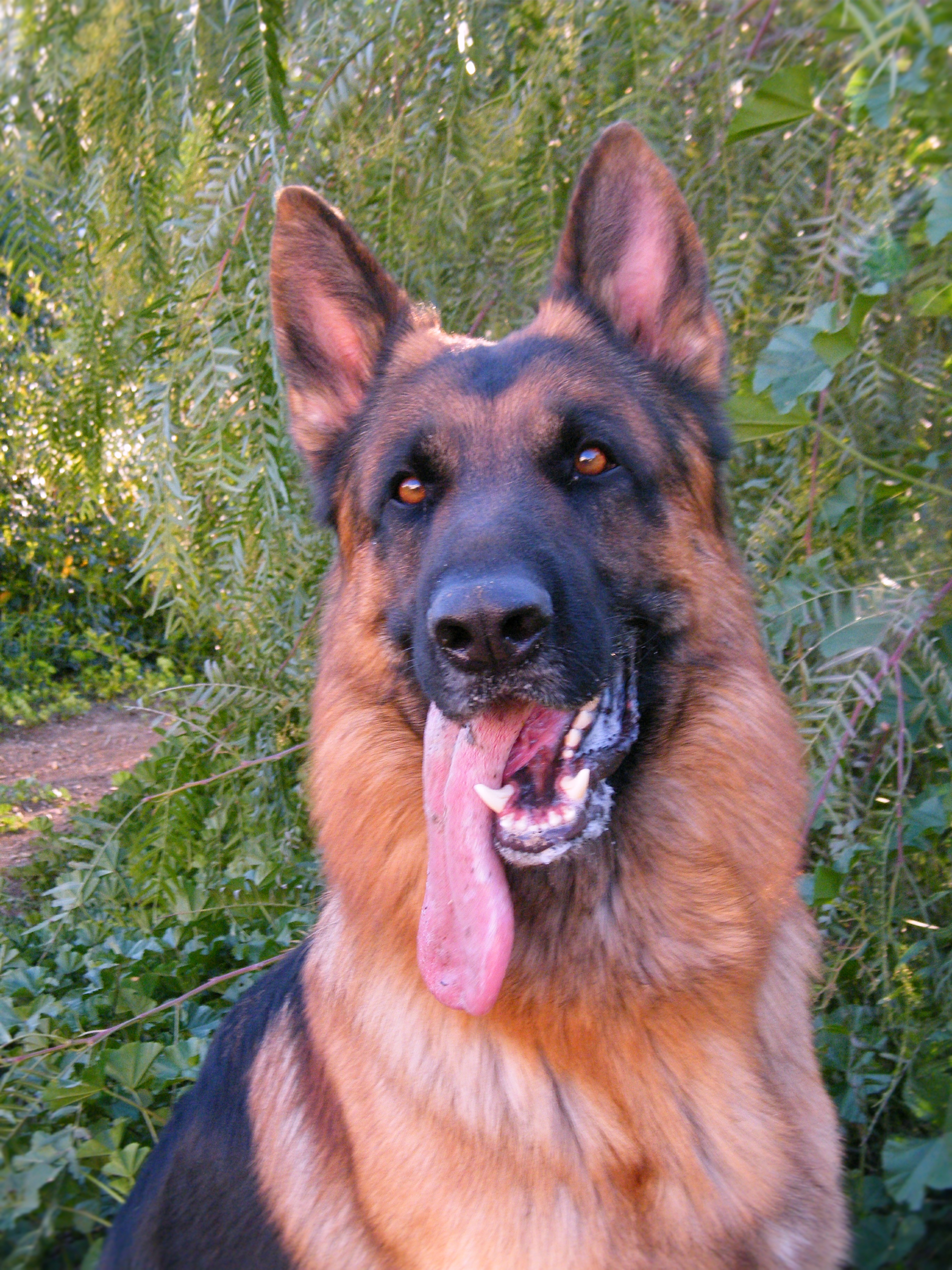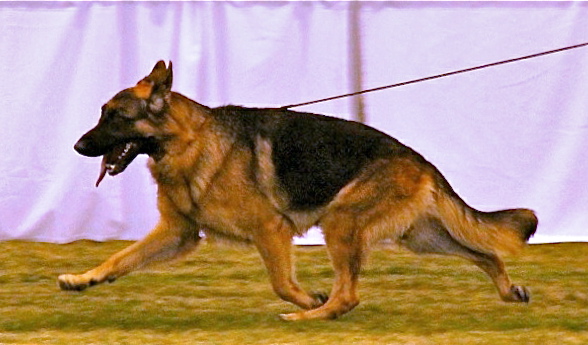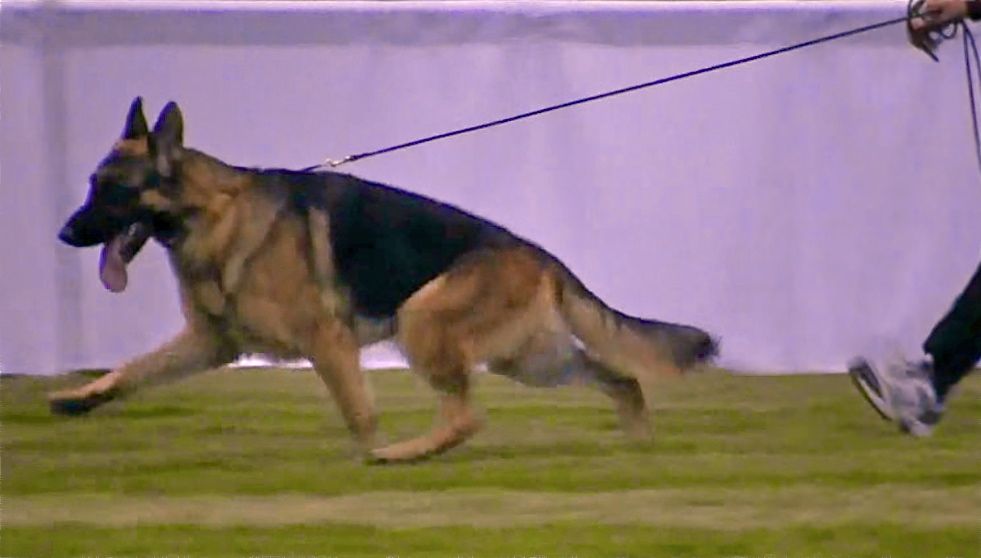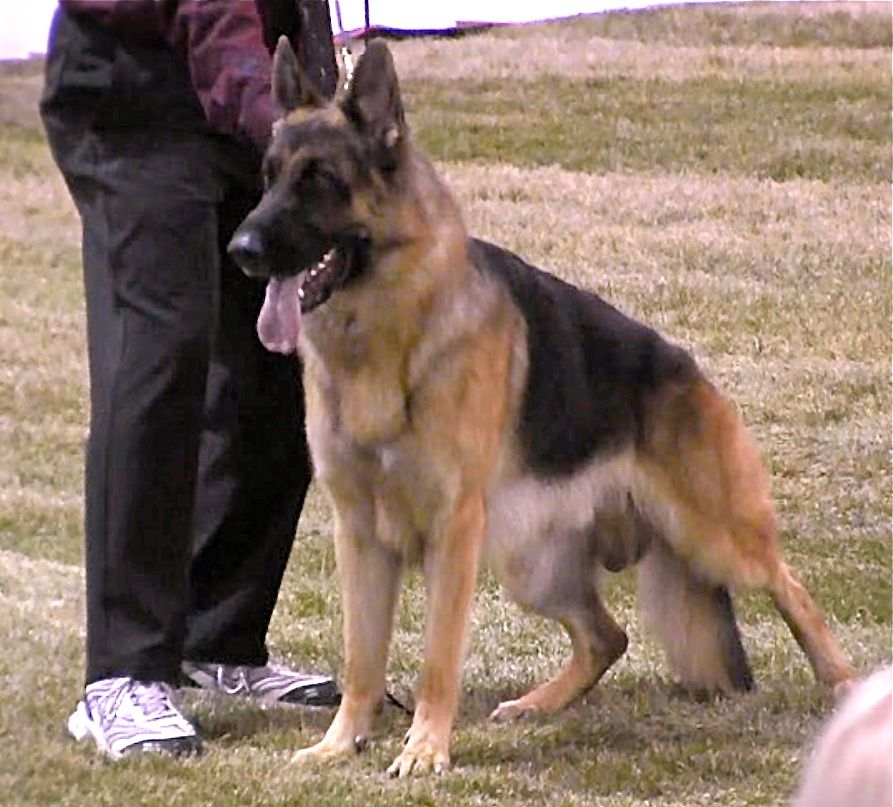 ~~~~~~~~~
He's growing up!! Watch for him in a ring near you, handled by Bill Tank!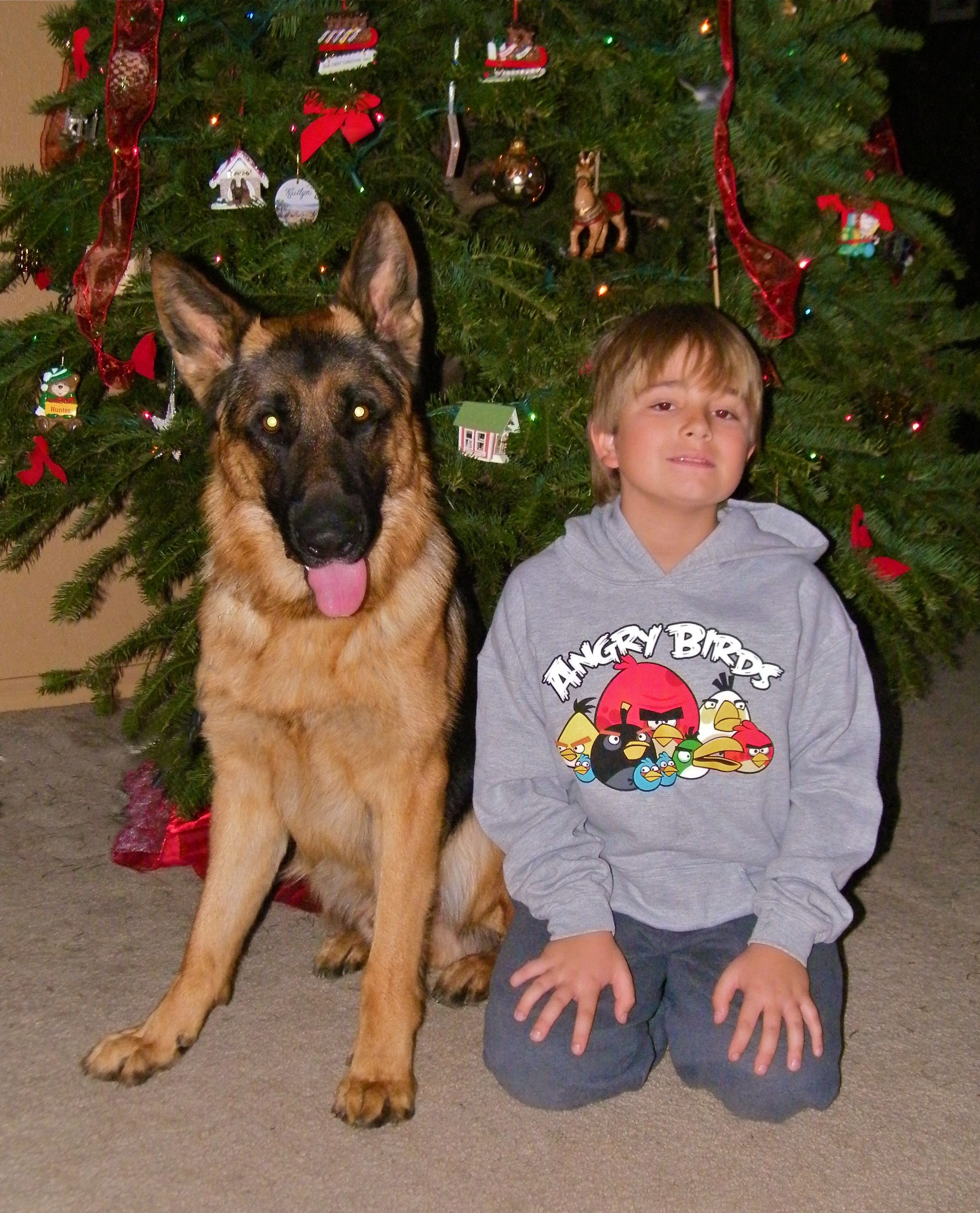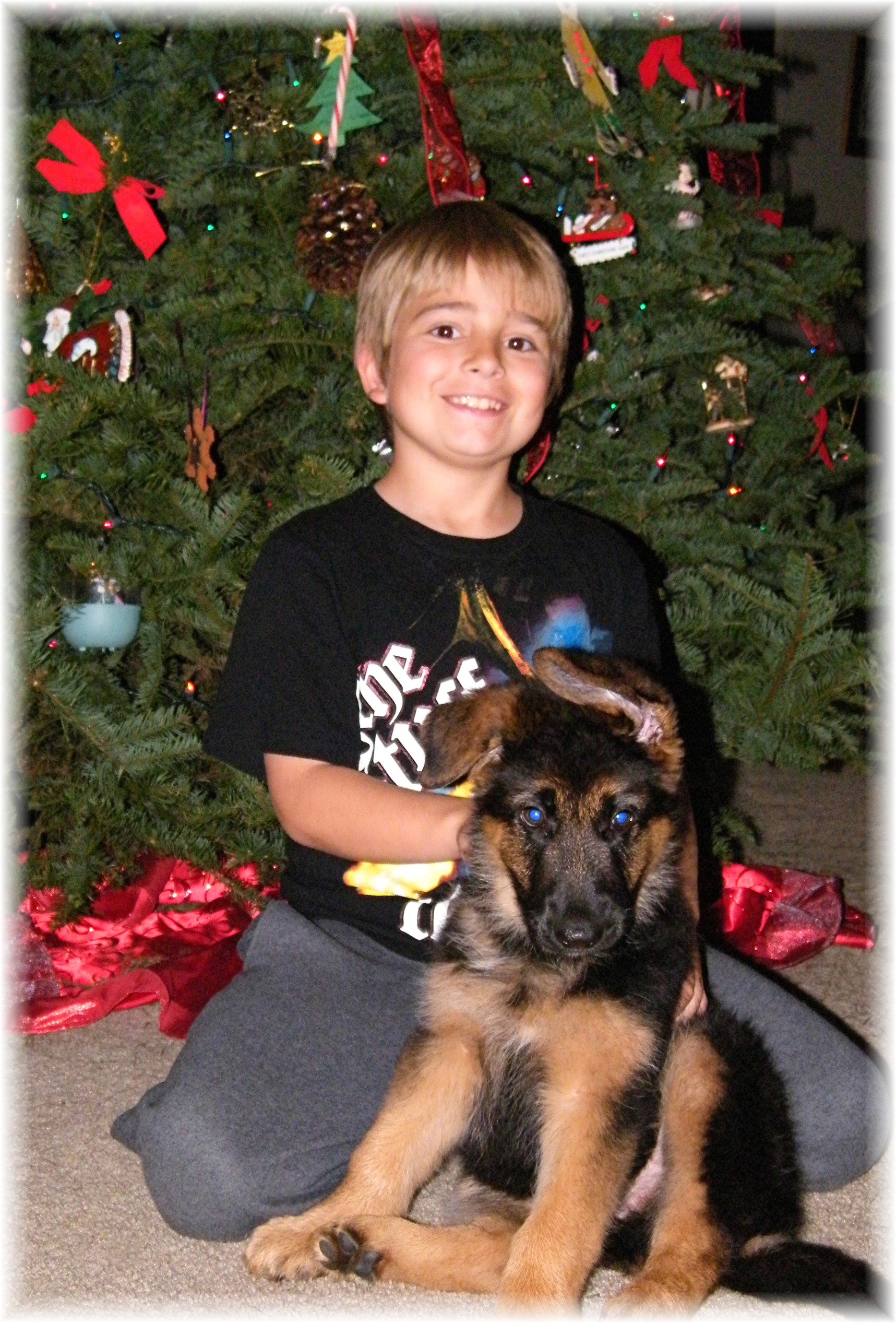 Kappo and Hunter Christmas 1 year apart...what a difference.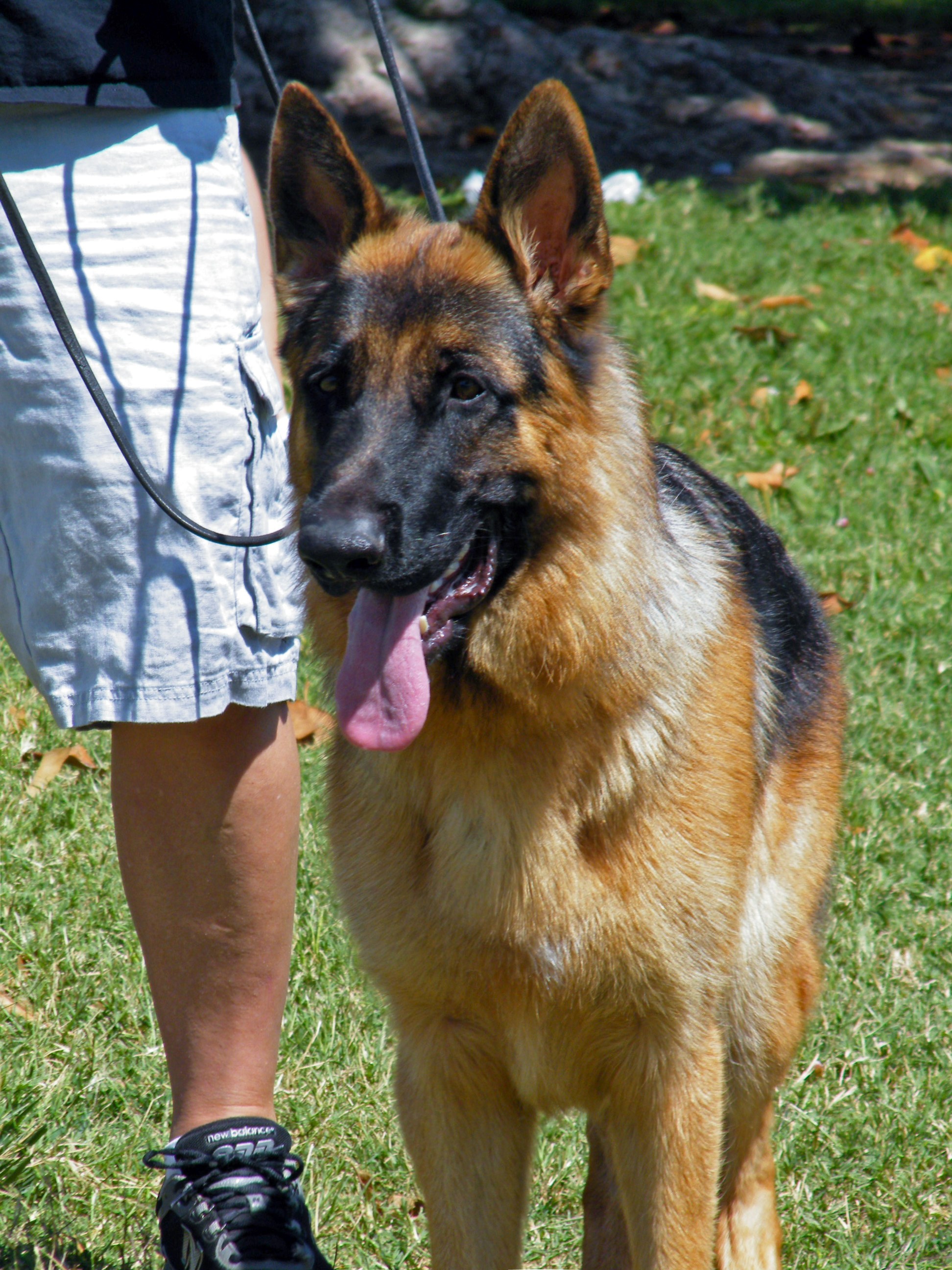 Kappo aug 2011 , 9 mos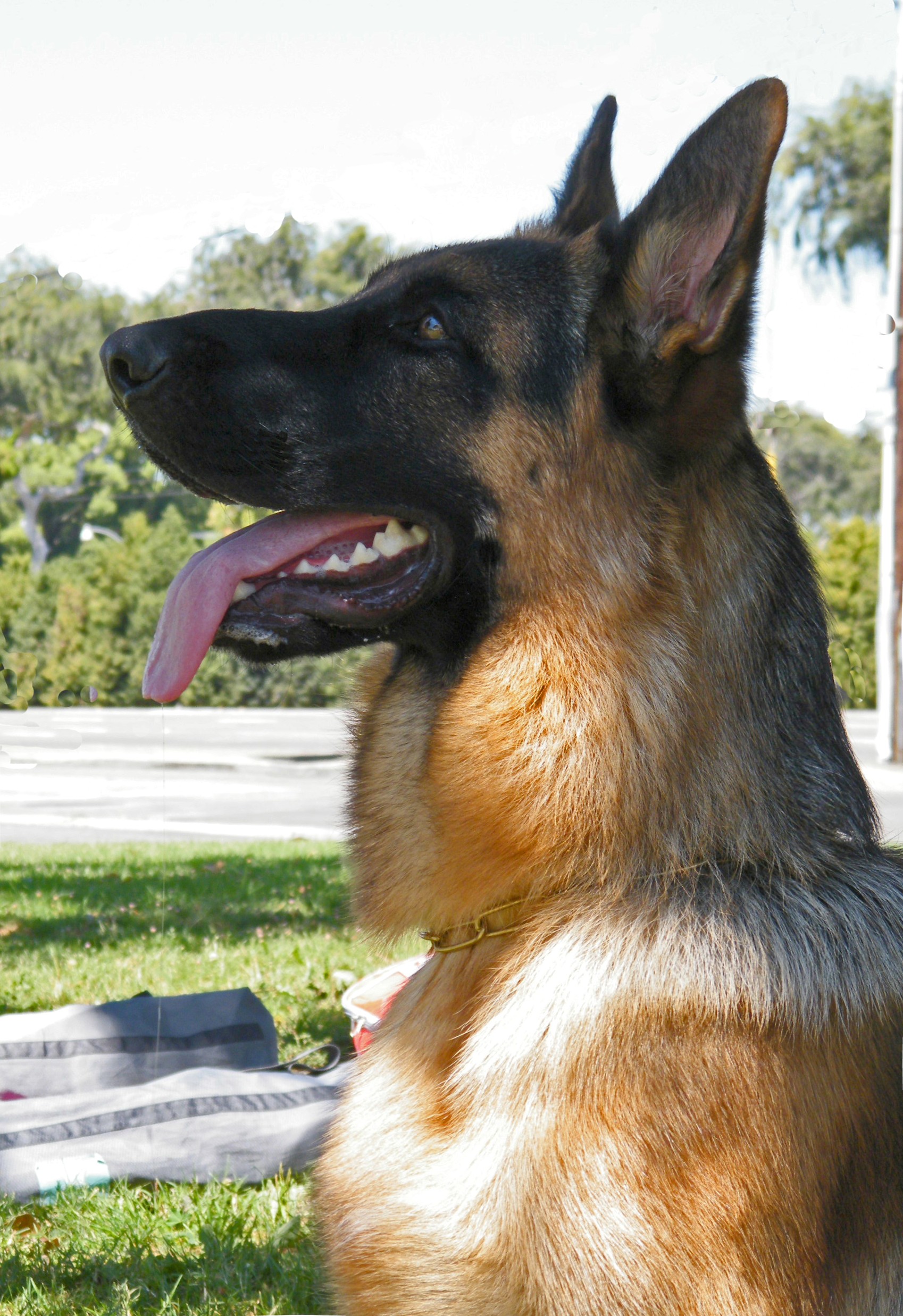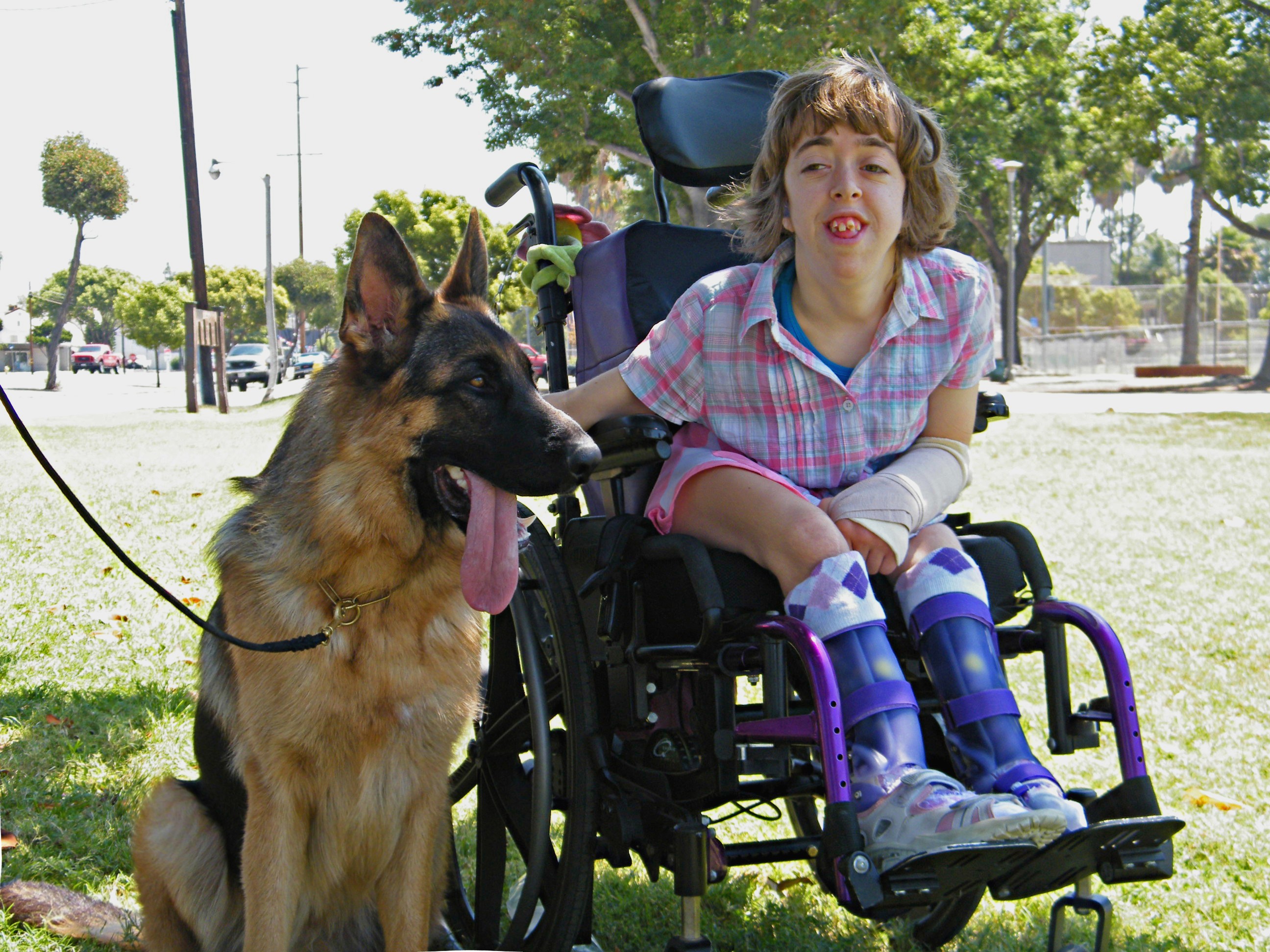 Aug 2011 , 9 mos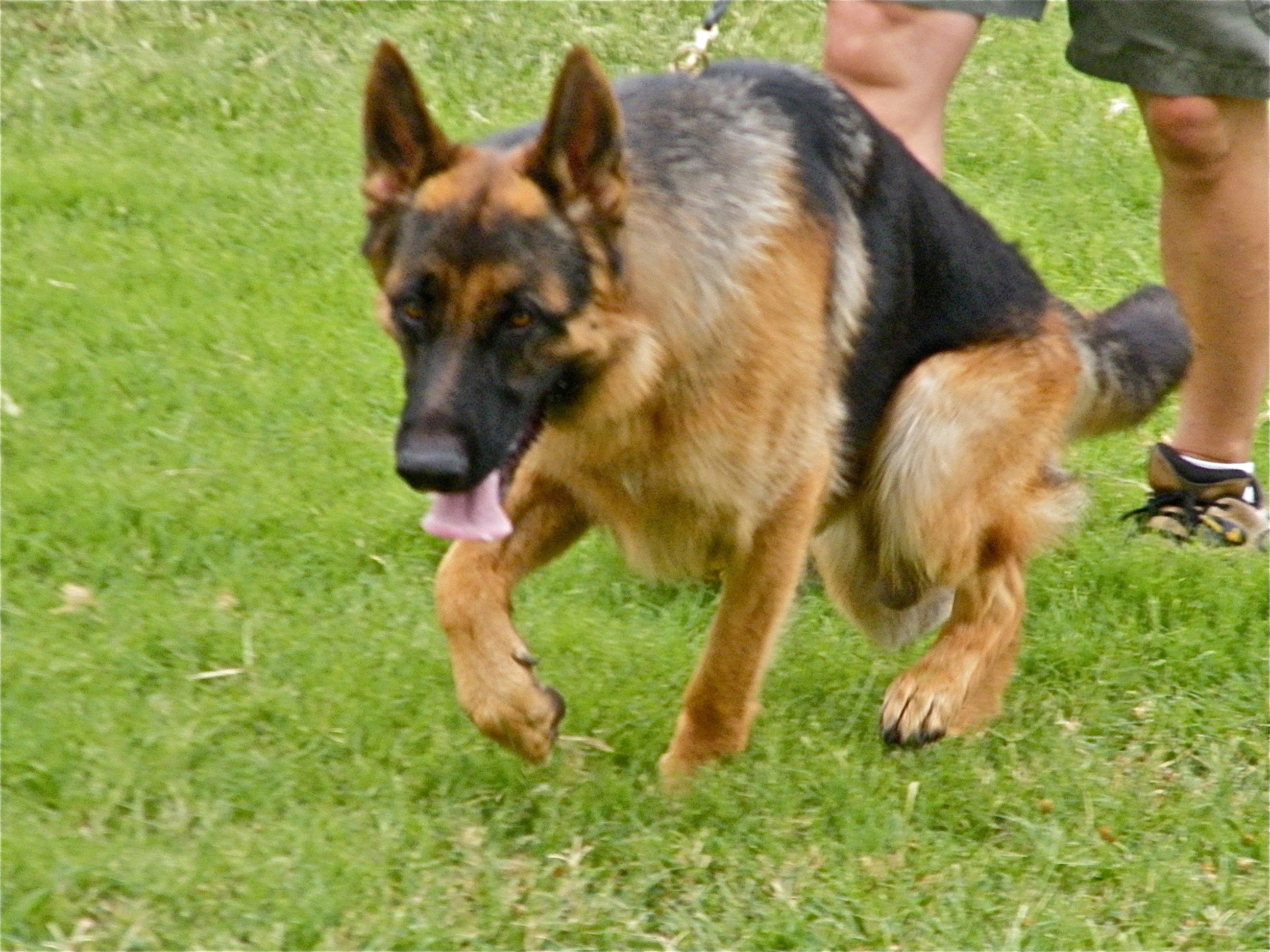 10 MOS OLD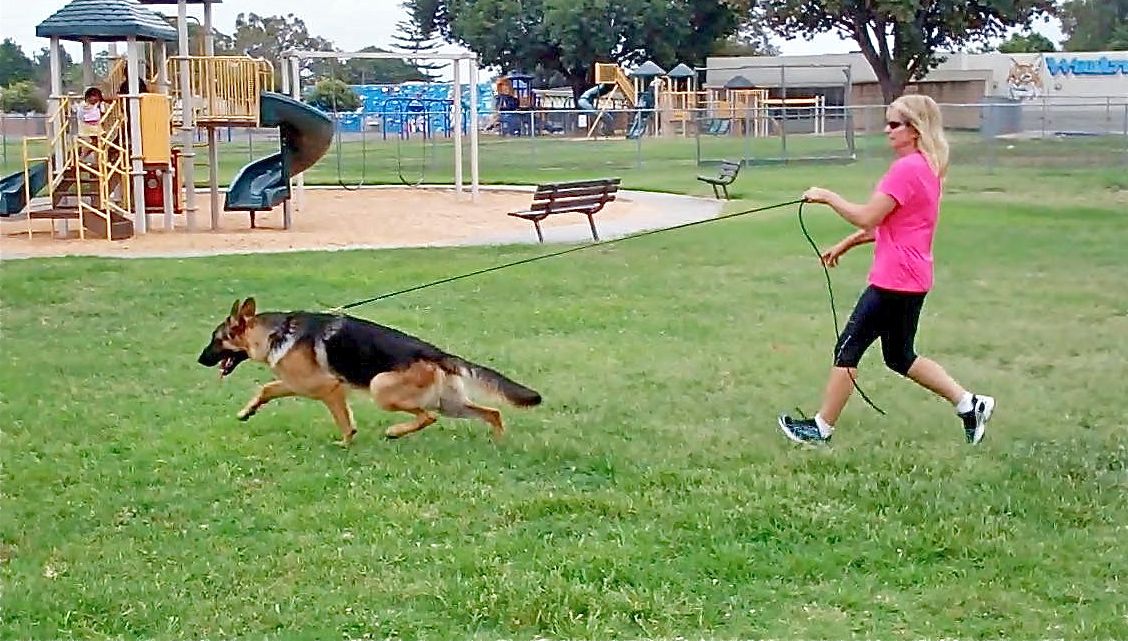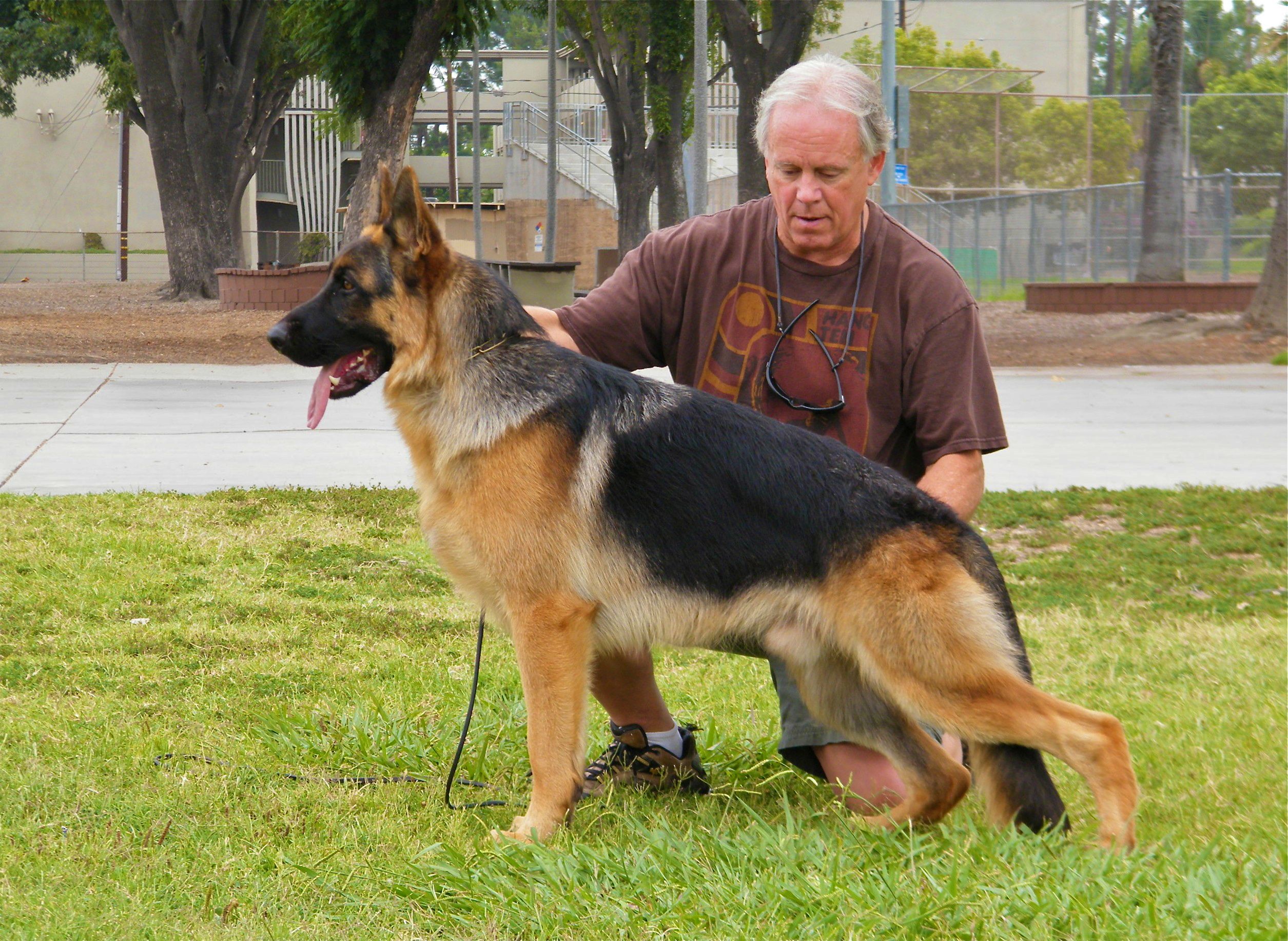 KAPPO 1O MONTHS , STACK
(Click on Thumbnails to Enlarge)

"Kappo" @ 8 weeks First Day Home



"Kappo" and Hunter, a match made in Heaven
Proud Dad

Kappo 9 Weeks

Kappo, 9 Weeks

Kappo 12 Weeks Head

Kappo 12 weeks, Stack

Extension Front and Rear 12 wk

Gathering

Flying After Dad's Hand !

Kappo @ 14 weeks

Forehand @ 14 weeks

Kappo at 15 weeks

"Bite Suit, Please!"

Kappo 15 wk on sofa

18 WKS ALL BOY

19 Weeks "The General"

19 Weeks Beautiful Coat

19 Weeks Looking a lot like his Father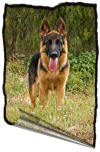 Kappo, 23 weeks Growing Up

"Air Nobili" Kappo 23 weeks
Below is "Funtime at the Park" Kappo 23 weeks

Best Buddies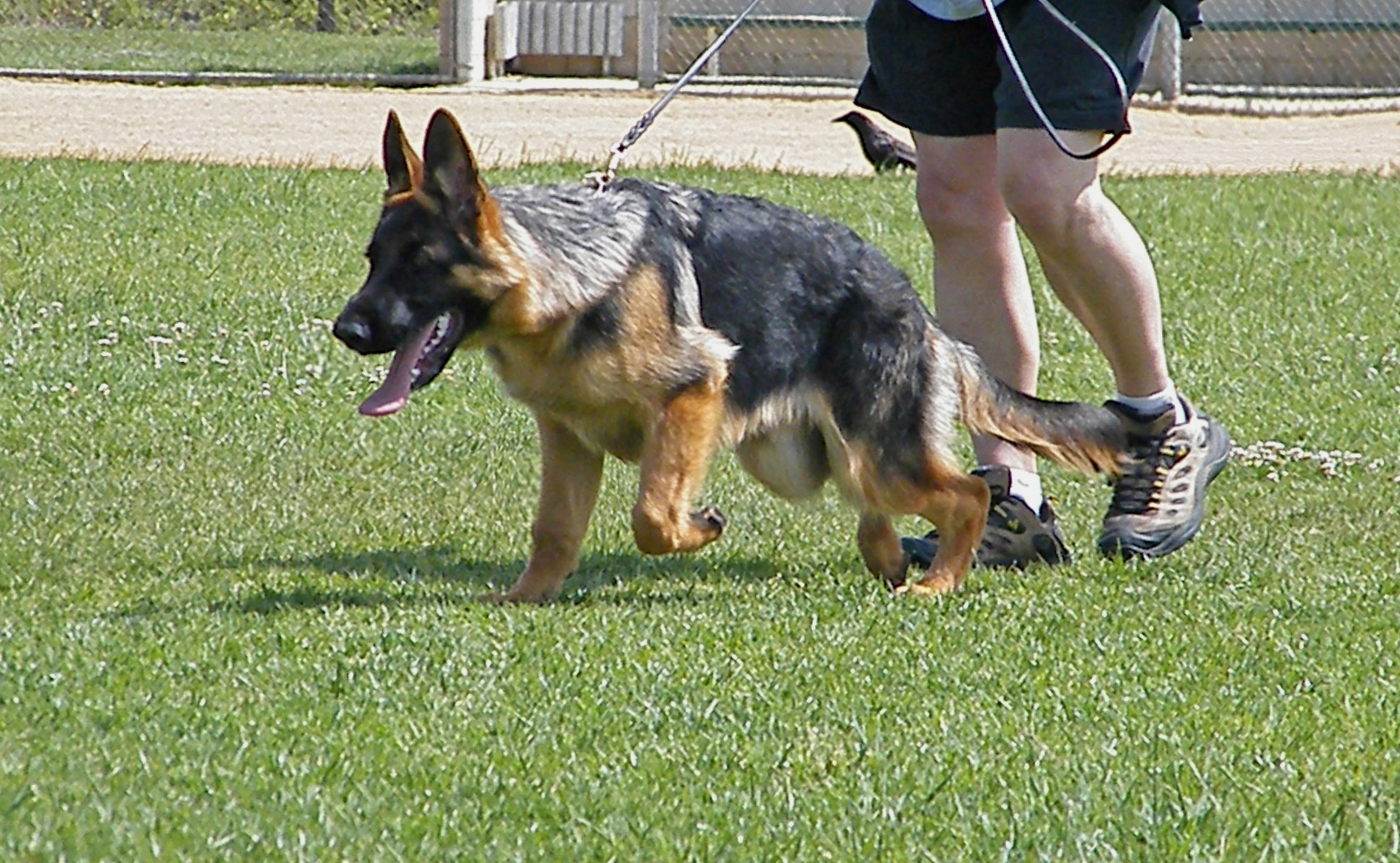 Power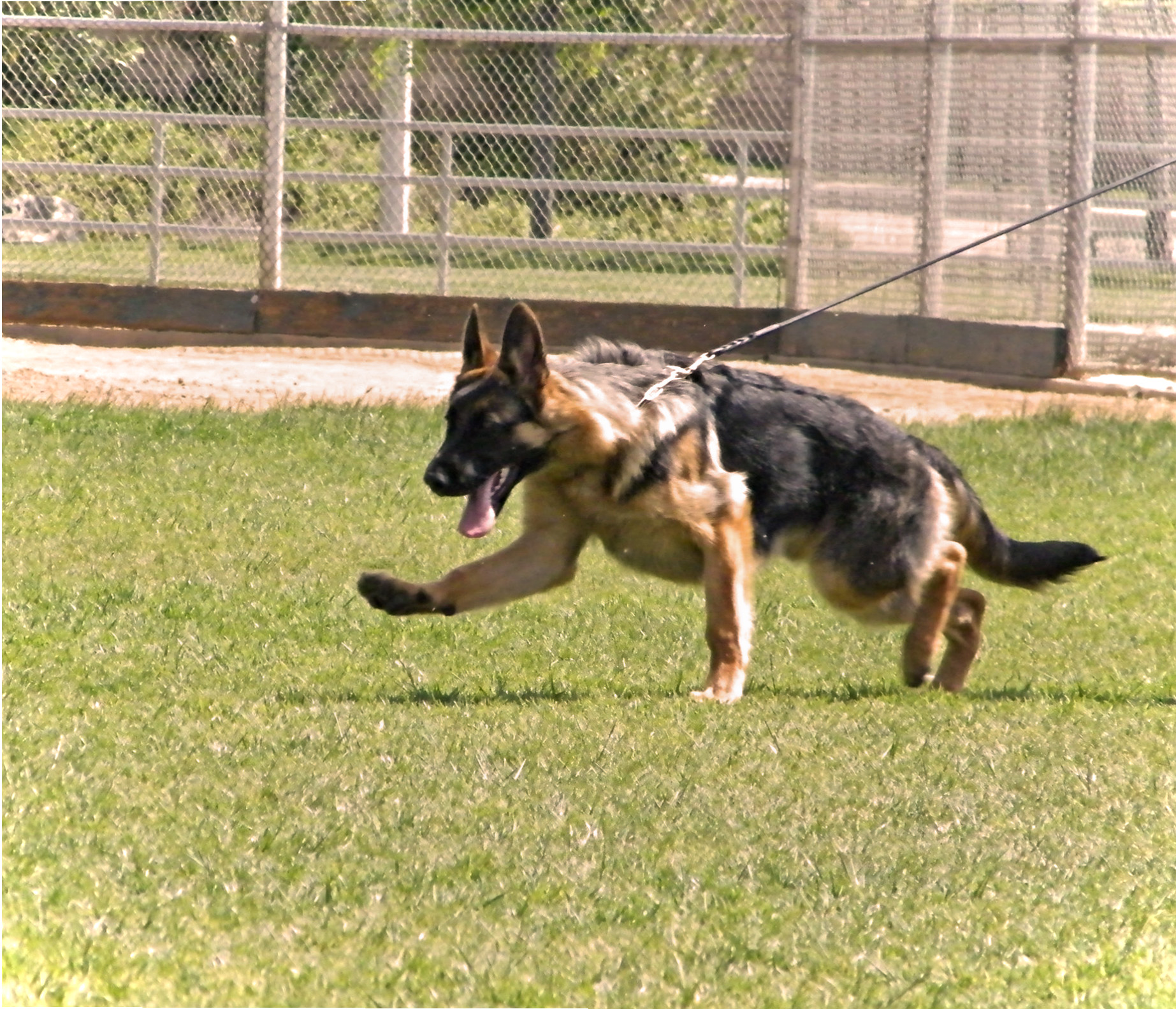 got forehand ?

GAME ON !

"Hey Mom, CATCH !"

FLYING FULL MOUTH GRIP
Then, as his friendship is not enough, Marco sent to us TEAM GECK DI CASA NOBILI track suits.
We are speechless, and so proud to be honorary members of your team! GO GECK !! GO TEAM NOBILI !!
Marco, we send our love, friendship and deepest thanks, for all you do.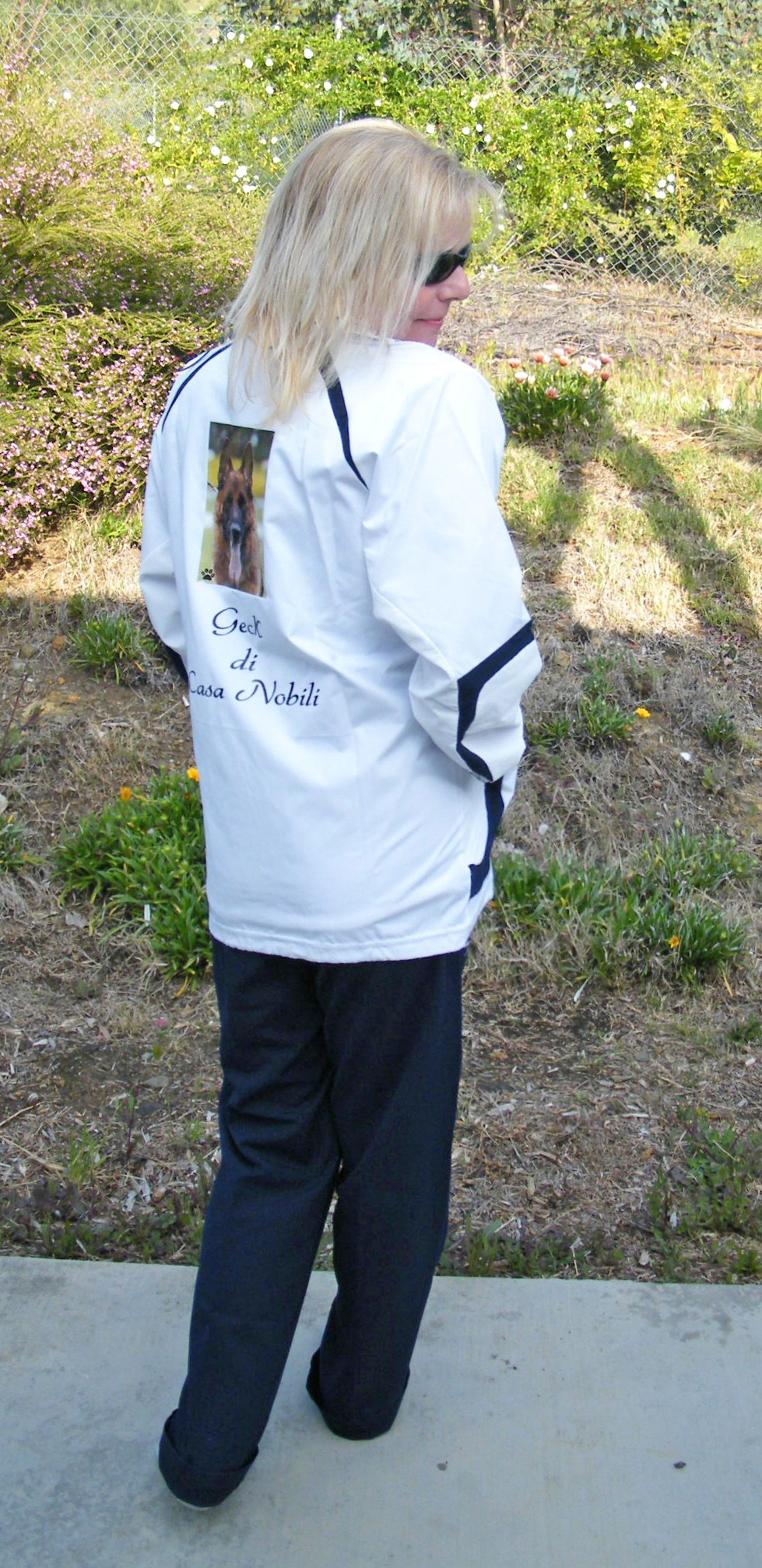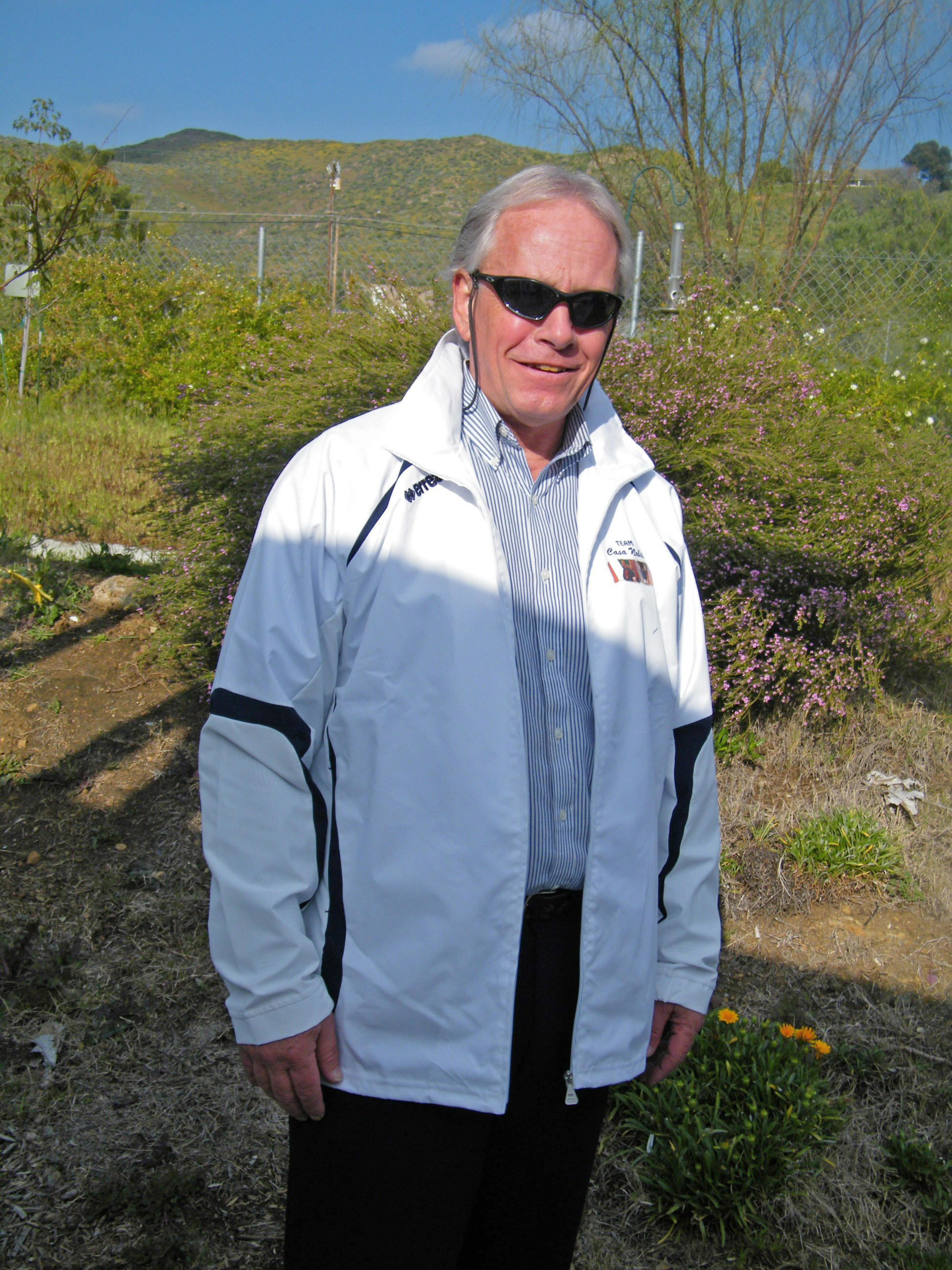 <"Geck di Casa Nobili, Geck, Nobili, Kappo von Eisenwerk, Eisenwerek GSDS, Casa Nobili, Tor, Tor Di Casa Nobili, Casa di Nobili, Italy, Italia, SAS, Geck puppies, Geck Puppy, Geck di Casa Nobili litters, Raffa, Juma, Benny Pley, Italo di Casa Nobili, Don di Casa Nobili, Casa Nobili, Luigi Nobili, Ambra di Casa Nobili, Linda dei Toraja, Indio di Casa Nobili, Tracy di Casa Nobili, casa nobili dogs, geck di casa nobili photo, casa nobili puppies, WDA, GSDCA WDA, black and red , male Geck puppy wanted, female Geck puppy wanted, Eisenwerk, von Eisenwerk, EisenwerkGSDS,Don di Casa Nobili, Fountain Blue, Zwinger Fountain Blue, Eccarius, Tabor Casa di Nobili, Thor Casa di Nobili, Taboo Casa di Nobili, Tracy Casa di Nobili, Italian German Shepherds, German Shepherds in Italy, Italian German Shepherd breeders, allevemento Casa di Nobili, Aldo, photos by Aldo, Aldo Basile">