His Future's So Bright... He's "Gotta Wear Shades"...
VICTORY'S GOTTA WEAR SHADES
"Oakley"
Bred and Owned by VICTORY GERMAN SHEPHERDS
IN LOVING RESIDENCE WITH TENCE AND IDELL BURDEN
SOUTHERN CALIFORNIA
( CH Elvaston's Nations Cup, TC, OFA H/E , DNA'd x Jagan's Hot Option)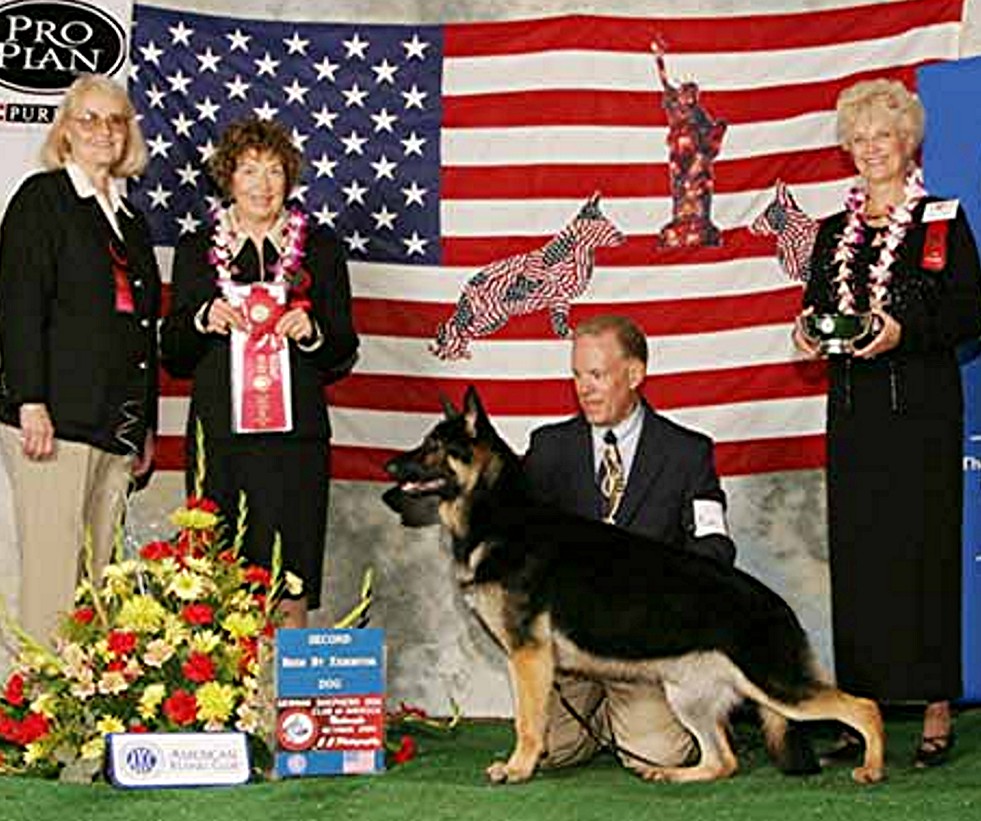 2ND BRED BY EXHIBITOR DOG @ 2004 NATIONALS @ 13 MOS. OLD!
THANK YOU, GLORIA BIRCH
~~~~~~~
OAKLEY IS BACK HOME AFTER STUD DOG DUTIES IN COLORADO!
WATCH FOR HIS GORGEOUS PROGENY
WATCH FOR HIM IN A RING NEAR YOU!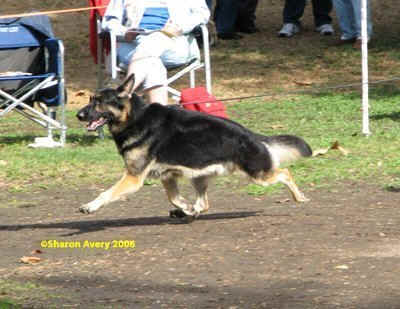 OAKLEY "IN FLIGHT" ALL FOURS OFF THE GROUND
SPECTACULAR PHOTO BY MICHAEL AVERY 2006
~~~~~~~
WINNERS DOG SANTA ANA VALLEY KC
HUGE THANK YOU TO MEREDITH JOHNSON SNYDER!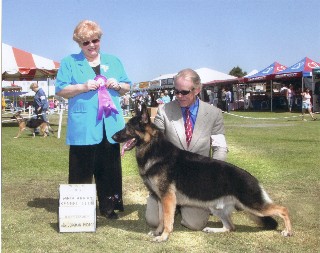 WATCH FOR HIM !
**FLASH**
**OAKLEY IS A QUALIFIER FOR HIS SIRE NITRO
W/ A MAJOR RESERVE UNDER MR KENNETH BUXTON!! **
~~~~~~~~~~~~~~~~~
"Oakley" is RESERVE MATURITY DOG @ MID PAC MATURITY!!
APRIL 29, 2005, Thank You Mr. Al Gibson!
______
~"Oakley" goes BEST OF WINNERS ~
Under the Esteemed MR. LEE BROWN, AT 13 MONTHS!
Shown Handled by Charmaine Skaggs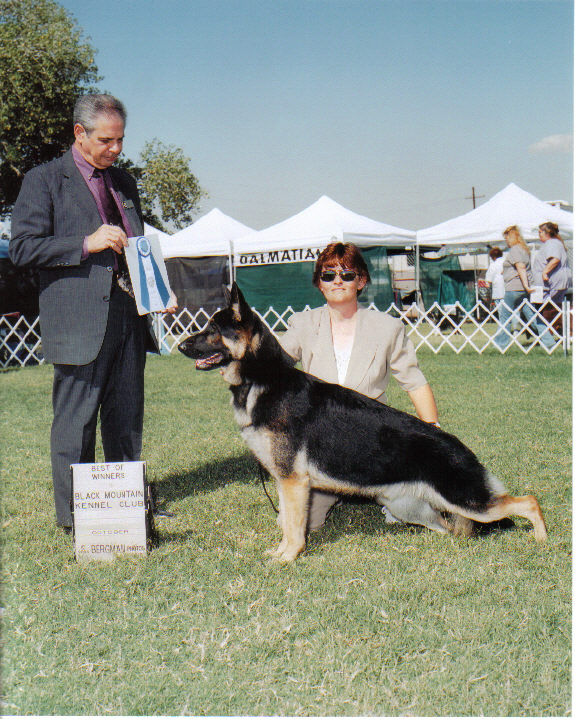 ~"Oakley" goes BEST OF WINNERS ~
Under Mr. Joseph Tacker, Handled by Mom!
Photo soon
"OAKLEY" IS A GORGEOUS, STYLISH, TOUGH-AS-NAILS SON OF CH. NITRO.
HE POSSESSES OUTSTANDING TEMPERMENT, OUTRAGEOUS SIDEGAIT, IS VERY CLEAN ,
~WITH~
BEAUTIFUL PIGMENT, PLUSH COAT, EXHIBITING TREMENDOUS WORK ETHIC & "GO"
ANOTHER WORLD CLASS NITRO KID!
***FLASH***
"OAKLEY " CONGRATULATES HIS DTR,
JUSUTUS PIECES OF SILVER "TREASON"
OWNED/ BRED BY LIZ HAMPTON
WHO WON A 4 PT MAJOR RESERVE AT SIX MONTHS AND ONE DAY OLD
WINNER SW JUNIOR FUTURITY BITCHES
BEST OPPOSITE PUPPY FIVE PT MAJOR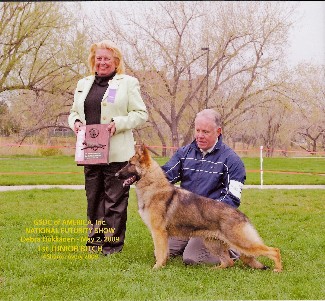 A SPECIAL THANK YOU, also to CAPPY POTTLE
for "OAKLEY'S" MAJOR BEST PUPPY WIN @ VENTURA GSDC
*Oakley will stand to a chosen few bitches in 2006*
RS LOS ANGELES , GERMAN SHEPHERDS , GERMAN SHEPHERD GUARD DOGS, GERMAN IMPORTS, SHEPARDS SOUTHERN CALIFORNIA, CALIFORNIA DOG BREEDERS, CALIFORNIA GERMAN SHEPHERD PUPPIES, PUPPIES, DOGS, STUD DOGS, AKC PUPPIES, BLACK AND RED GERMAN SHEPHERDS, BREEDERS, GUARANTEES, AKC STUD SERVICE, REGISTERED GERMAN SHEPHERDS, REGISTERED GERMAN SHEPARDS, PUPPIES FOR SALE, LITTERSGerman She
, StudGGERMAN SHEPHERD, GERMAN SHEPARD, SHEPARDS , CALIFORNIA, CA, CALIF, BREEDERS, GERMAN SHEPPARD PUPPIES, GERMAN SHEPHERD BREEDERS, GERMAN SHEPARD DOGS,
GERMAN SHEPHERD BREEDERS SOUTHERN CA, GERMAN SHEPHERD SOUTHERN CA, GERMAN SHEPHERD CALIFORNIA, GERMAN SHEPARD, GERMAN SHEPHERDS FOR SALE, AKC GERMAN SHEPHERDS, AKC GERMAN SHEPARDS, AKC GERMAN SHEPHERD BREEDERS CALIFORNIA, GERMAN SHEPHERD BREEDERS SAN DIEGO, GERMAN SHEPHERD BREEDERS INLAND EMPIRE, GERMAN SHEPHERD BREEDERS LOS ANGELES , GERMAN SHEPHERDS , GERMAN SHEPHERD GUARD DOGS, GERMAN IMPORTS, SHEPARDS SOUTHERN CALIFORNIA, CALIFORNIA DOG BREEDERS, CALIFORNIA GERMAN SHEPHERD PUPPIES, PUPPIES, DOGS, STUD DOGS, AKC PUPPIES, BLACK AND RED GERMAN SHEPHERDS, BREEDERS, GUARANTEES, AKC STUD SERVICE, REGISTERED GERMAN SHEPHERDS, REGISTERED GERMAN SHEPARDS, PUPPIES FOR SALE, LITTERSGerman
GERMAN SHEPHERD, GERMAN SHEPARD, SHEPARDS , CALIFORNIA, CA, CALIF, BREEDERS, GERMAN SHEPPARD PUPPIES, GERMAN SHEPHERD BREEDERS, GERMAN SHEPARD DOGS,
GERMAN SHEPHERD BREEDERS SOUTHERN CA, GERMAN SHEPHERD SOUTHERN CA, GERMAN SHEPHERD CALIFORNIA, GERMAN SHEPARD, GERMAN SHEPHERDS FOR SALE, AKC GERMAN SHEPHERDS, AKC GERMAN SHEPARDS, AKC GERMAN SHEPHERD BREEDERS CALIFORNIA, GERMAN SHEPHERD BREEDERS SAN DIEGO, GERMAN SHEPHERD BREEDERS INLAND EMPIRE, GERMAN SHEPHERD BREEDERS LOS ANGELES , GERMAN SHEPHERDS , GERMAN SHEPHERD GUARD DOGS, GERMAN IMPORTS, SHEPARDS SOUTHERN CALIFORNIA, CALIFORNIA DOG BREEDERS, CALIFORNIA GERMAN SHEPHERD PUPPIES, PUPPIES, DOGS, STUD DOGS, AKC PUPPIES, BLACK AND RED GERMAN SHEPHERDS, BREEDERS, GUARANTEES, AKC STUD SERVICE, REGISTERED GERMAN SHEPHERDS, REGISTERED GERMAN SHEPARDS, PUPPIES FOR SALE, LITTERSGerman She