VICTORY PRESENTS OUR NEW BOY..... BACK TO INDEX
CH. GARTER'S E-MALE OF FRAN-JO ANNE ISLE

"JOE- JOE" (CLICK PIC FOR ENLARGED PHOTO)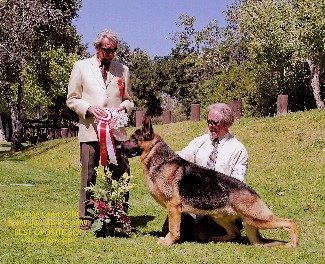 ANOTHER GORGEOUS AVERY PHOTO, APRIL 2009
Thank you Mr. Bob Funk for this 4 Pt Major Best Opp Sex April 4, 2009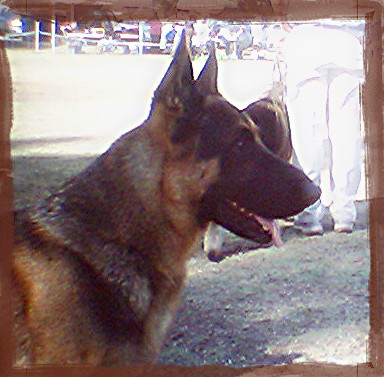 Photo by 7 yr old Hunter Tank using Fisher Price Digital Cam
"Joe Joe's " Sire and Dam are:
Can GV/2x Am Sel Exc BIF BIM Ch Jag of Fran-Jo ROM
X
LISA OF FRAN - JO, ROM (MANNY DTR.) #1 MAJOR PTS PRODUCING BITCH 2006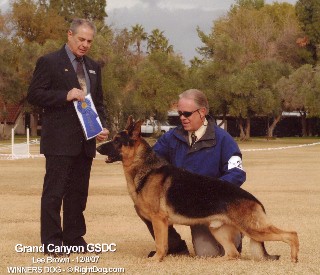 BACK- TO- BACK WINNERS DOG
GRAND CANYON GSDC - DEC 2007
THANK YOU MR. LEE BROWN!
&
THANK YOU MR. JERRY GRAHAM!
~~~~~~
WINNERS DOG (ENTERED ONE DAY ONLY)
SO NEVADA GSDC - 1MAR 2008
THANK YOU MR. GARY SZYMCZAK!
~~~~~
4 PT MAJOR WINNERS DOG
SAN GABRIEL VALLEY GSDC -19 APR 2008
HUGE THANK YOU TO MR. MICHEL CHALOUX!!
BELOW IS THE CRITIQUE FROM JUDGE CHALOUX OF OUR BOY!!!
San Gabriel Valley GSDC April 19, 2008
Critique by Judge Michel Chaloux
Winners Male: Garterís E-Male Fran-Jo Anne Isle
"My Winners Male is a large black and red dog of great masculinity. A very handsome male standing, showing excellent proportion and balance . I love his forequarter. He also has a good topline and a solid rear that matches his front. He was shown in top condition . His handler did a great job showing him.
As a mover, he is even more impressive. He has a long, outreaching, elastic stride. He travels close to the ground and has a strong follow through. He was my most consistent mover in the class showing an effortless suspension.
He displayed a excellent temperament but could be more animated in the ring, he is a serious dog. "
~~~~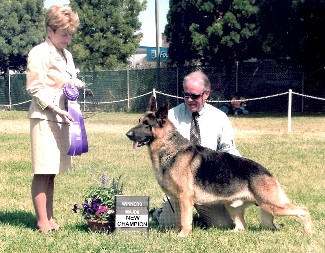 FINISHING MAJOR !!! NOW CHAMPION!!
SAN BERNARDINO/ RIVERSIDE GSDC JUNE 8, 2008
HUGE APPRECIATION TO MRS. SUE GODEK
FOR FINISHING "JOE" IN GRAND STYLE!!
A BIG-MOVING, SUPER MASCULINE BOY!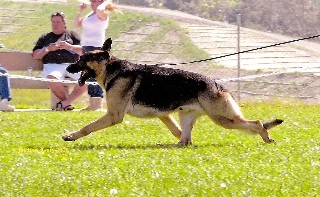 Photo by Michael Avery 2008
LOOSE LEAD AND EASY DOES IT....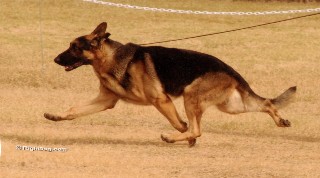 LOOSE LEAD AND FLYING TROT!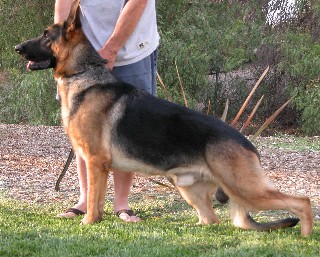 Photo by Team Victory 2007
Pedigree for "Joe Joe" Click Here
JOE HAS NEW BABIES 3 BOYS AND 3 GIRLS ! December 15, 2008
See them under "Little Victories" on our Index
~~~
Here is a picture (a little out of focus) of our 12 mos old Joe son
Victory's Let's Roll aka, "Beamer" (named for the hero of Flt 93)
He is tough, and all boy. He posesses IDEAL temperament,
IN YOUR FACE, and yet after introductiions, and our "OK"
will bring you his favorite toy.
MEET "BEAMER"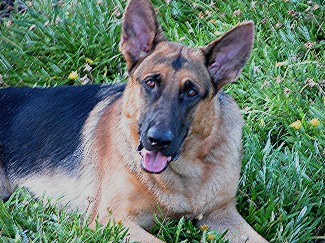 WE SUPPORT MANDATORY DRUG AND DYE TESTING
Joe CONGRATULATES his daughter Garter's Quiksilver Rising, RN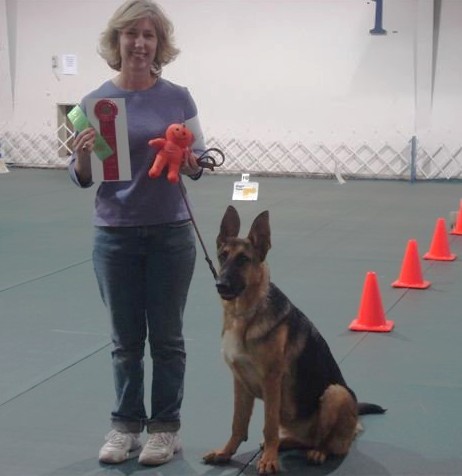 Pictured finishing her final leg for Rally Novice
at 10 1/2 mos old (Jan 12, 2008)
Owners: Tim and Jamie Ward, trained and handled by Jamie.
Way to go Guys!!
Bred by Garter GSDs , Gary and Teresa Lewis
Watch for her in conformation !!
"Joe Joe" is a full Brother to Ch Yankee of Fran-Jo AnneIsle, Ch Isabel of Fran-Jo, Garter's Icon of Fran-Jo (12 points-1 major), and RBIF RBIM Intrigue at Garter Fran-Jo Anne Isle.
They are Sired by Can GV/2x Am Sel Exc BIF BIM Ch Jag of Fran-Jo ROM and out of RBIM Lisa of Fran-Jo Anne Isle ROM
This is one ULTRA MASCULINE boy! He is MAHOGHANY and Black
JOE JOE IS 96 LEAN LBS AND 26 1/2 INCHES TALL
He has a sweeping gait, powerful, and oh yes ... CLEAN.
BEAUTIFUL SHOULDER, IRON BACK, XINT FEET/ PASTERNS /HOCKS
GORGEOUS HEAD, PERFECT DENTITION
TREMENDOUS ELASTIC REACH AND POWERFUL DRIVE LINE.
he has WONDERFUL TEMPERAMENT
WE ARE PROUD TO CO -OWN HIM WITH GARY AND TERESA LEWIS!!!
IT HAS BEEN A DREAM OF OURS FOR MANY YEARS TO OWN A MALE

FROM THE LEGENDARY FRAN -JO LINES

WE THANK GARY AND TERESA LEWIS of GARTER GSDS
FROM THE BOTTOM OF OUR HEARTS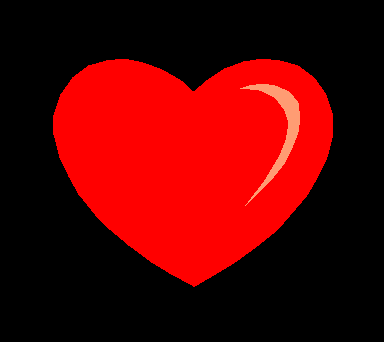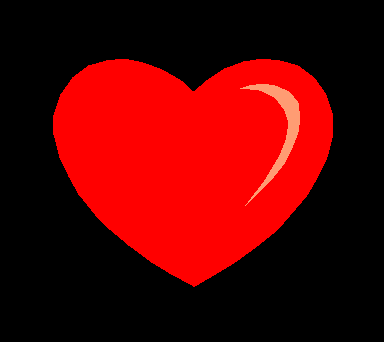 FOR SENDING
THIS BIG , FUNNY BOY TO US, AND MAKING THAT DREAM A REALITY!!!
CARRIES NO COAT FACTOR
(951) 553-4029 CELL

GOD BLESS THIS GREAT NATION
FRAN-JO FRAN-JO FRAN-JO FRAN-JO FRAN-JO
FRAN-JO FRAN-JO FRAN-JO FRAN-JO FRAN-JO
FRAN-JO FRAN-JO FRAN-JO FRAN-JO FRAN-JO
FRAN-JO FRAN-JO FRAN-JO FRAN-JO FRAN-JO
FRAN-JO FRAN-JO FRAN-JO FRAN-JO FRAN-JO
FRAN-JO FRAN-JO FRAN-JO FRAN-JO FRAN-JO
FRAN-JO FRAN-JO FRAN-JO FRAN-JO FRAN-JO
FRAN-JO FRAN-JO FRAN-JO FRAN-JO FRAN-JO
FRAN-JO FRAN-JO FRAN-JO FRAN-JO FRAN-JO
FRAN-JO FRAN-JO FRAN-JO FRAN-JO FRAN-JO
FRAN-JO FRAN-JO FRAN-JO FRAN-JO FRAN-JO
FRAN-JO FRAN-JO FRAN-JO FRAN-JO FRAN-JO
FRAN-JO FRAN-JO FRAN-JO FRAN-JO FRAN-JO
FRAN-JO FRAN-JO FRAN-JO FRAN-JO FRAN-JO
FRAN-JO FRAN-JO FRAN-JO FRAN-JO FRAN-JO
FRAN-JO FRAN-JO FRAN-JO FRAN-JO FRAN-JO
FRAN-JO FRAN-JO FRAN-JO FRAN-JO FRAN-JO
FRAN-JO FRAN-JO FRAN-JO FRAN-JO FRAN-JO
FRAN-JO FRAN-JO FRAN-JO FRAN-JO FRAN-JO
FRAN-JO FRAN-JO FRAN-JO FRAN-JO FRAN-JO
FRAN-JO FRAN-JO FRAN-JO FRAN-JO FRAN-JO
FRAN-JO FRAN-JO FRAN-JO FRAN-JO FRAN-JO
FRAN-JO FRAN-JO FRAN-JO FRAN-JO FRAN-JO
FRAN-JO FRAN-JO FRAN-JO FRAN-JO FRAN-JO
FRAN-JO FRAN-JO FRAN-JO FRAN-JO FRAN-JO
FRAN-JO FRAN-JO FRAN-JO FRAN-JO FRAN-JO
FRAN-JO FRAN-JO FRAN-JO FRAN-JO FRAN-JO